This post may contain affiliate links. As an Amazon Associate, I earn from qualifying purchases. Please read my disclosure.
This healthy red lentil pasta recipe is the ultimate easy vegetarian meal that is filled with protein and ready in just 30 minutes. Rich marinara sauce is mixed with tender nutritious vegetables for a wholesome balanced meal that's perfect for the whole family! Naturally gluten free and easily made vegan too!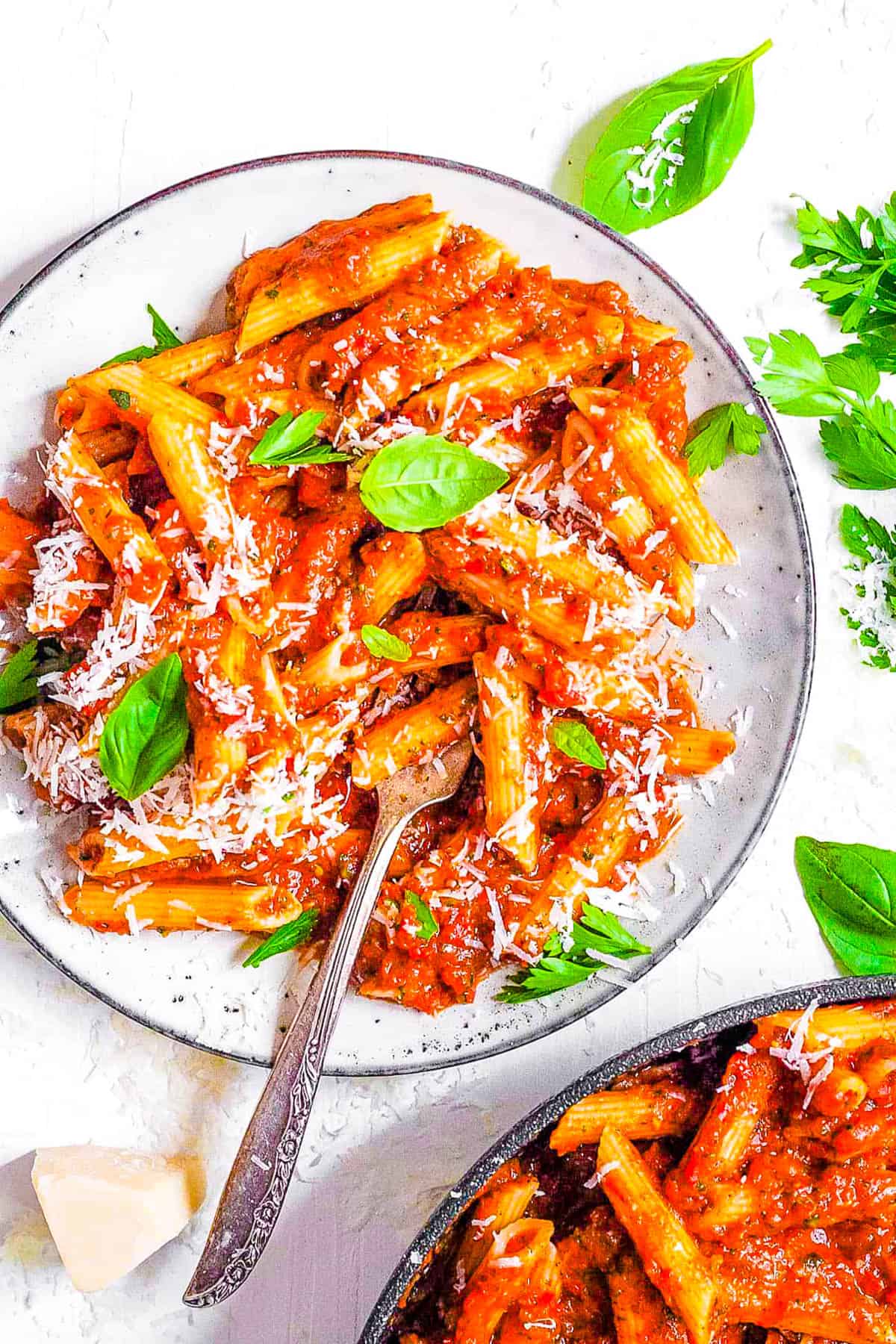 This vegetarian, hearty, plant based, homemade red lentil pasta recipe is served with a savory marinara sauce that is packed with both nutrients and delicious flavors! Perfect as a main course for anytime of the year, this easy recipe is great as lunch or dinner.
Using lentil pasta turns this recipe into a gluten-free pasta dish (and a better option than brown rice pasta which isn't as nutrient packed), making it allergen friendly too!
The best part is: the Italian sauce is filled with veggies that no one will even notice! Red bell peppers are mixed with tender spinach and robust garlic that are blended with tomato sauce, which creates the most amazing nutritious sauce filled with tomatoes, Italian spices, and crushed red pepper.
It's a great way to sneak veggies in when you have picky eaters in your family.
ready-in-about 30 minutes, this is the ultimate dinner recipe for someone who is short on time! Once you try this red lentil pasta recipe, this will become one of those pasta dishes you will make again and again.
With minimal prep time, and family-friendly ingredients, I guarantee this bowl of pasta will be a new experience that you will enjoy!
👩🏽‍🍳 Why This Recipe Works
High protein (23 grams per serving)
Leftovers taste even better the next day!
Family favorite pasta recipe
Lower carb dinner
A twist on a traditional pasta primavera
Super easy to make
Gluten-free with a vegan option
Healthy pasta dish
Packs a lot of vegetables into the sauce
Best red lentil pasta recipe ever!
Latest Recipe Video!
🥘 Ingredients
This recipe is made with simple whole foods, easily found at your local grocery store! Some you may already have on hand as they are pantry staples!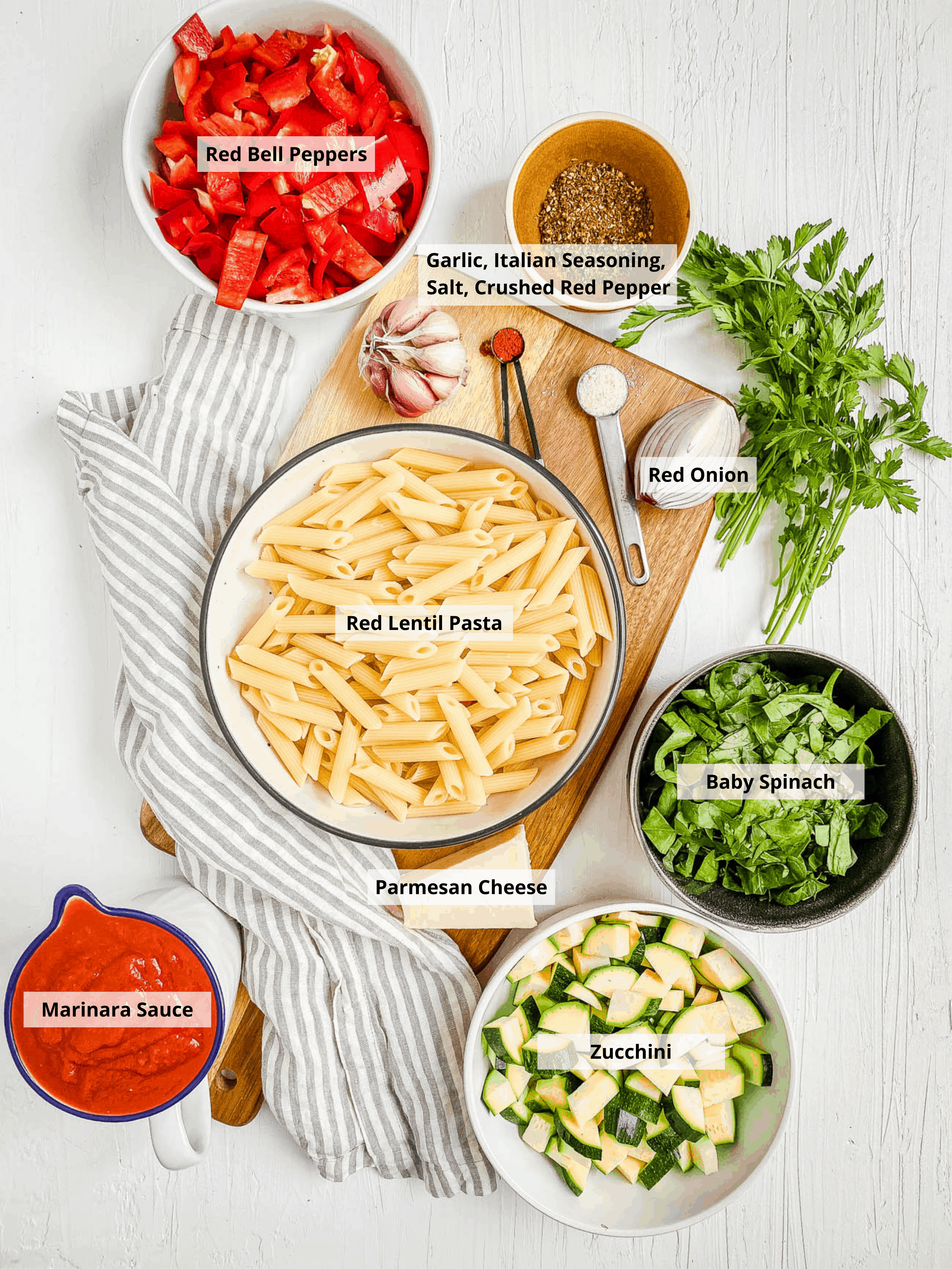 Olive Oil: For sauteeing the veggies, adding healthy fats, and giving the red sauce its great flavor.
Fresh Vegetables: Baby spinach, bell peppers, onion, and zucchini – these are all of the hidden veggies in our superfood marinara sauce! But you can use all kinds of vegetables in this sauce – carrots, yellow squash, brussels sprouts and any root veggies would all work. It's a great way to clean out any remaining veggies in your fridge!
Lentil Pasta: I recommend using your favorite red lentil pasta for this recipe. Any type of lentil flour pasta will work – brown lentils or green lentil pasta, or even chickpea pasta or any vegetable / protein pasta.
Tomato Basil Marinara Sauce: I like Cucina Antica's sauces, but you can use any jarred marinara sauce you like! If you don't have marinara sauce, you can use crushed tomatoes, tomato sauce, or tomato paste mixed with vegetable broth.
Spices: We used Italian seasoning, salt, pepper, garlic, and crushed red pepper flakes – don't skimp on the seasonings! It gives this dish great taste and that comforting Italian flavor. You can also add some black pepper if you like things a little more spicy. Feel free to add fresh herbs too – fresh basil or fresh oregano as a garnish would be a great addition to this recipe.
Parmesan Cheese: optional, but highly recommended. To make this for a vegan diet: simply omit, or use a vegan parmesan or a sprinkle of nutritional yeast for that cheesy flavor.
🔪 Instructions
Cook the pasta according to the package directions: Bring a large pot of water to a rolling boil, add pasta, cook until slightly al dente, drain and set aside. Meanwhile, in a large pot or large skillet, add olive oil and sauté onion and garlic over medium-high heat for 3-4 minutes until caramelized. Then add the rest of the chopped vegetables and spices, reduce to medium heat and cook for 5-10 minutes.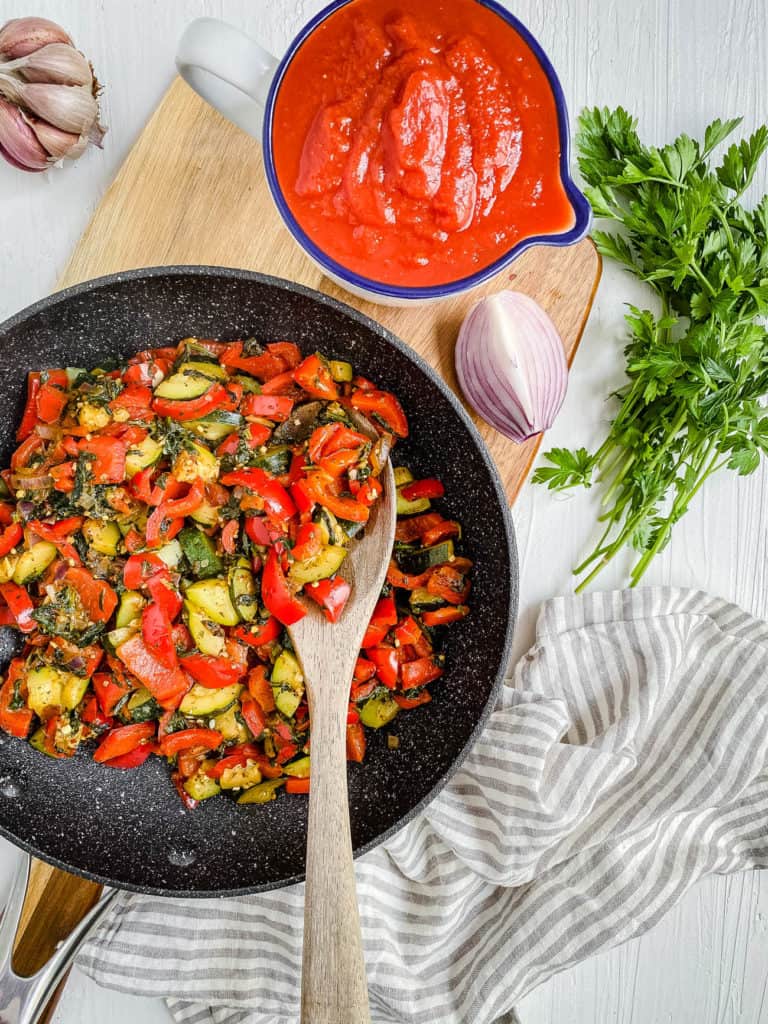 Make the red lentil pasta sauce: Combine the cooked vegetable mixture with one jar of sauce in blender. Blend until smooth.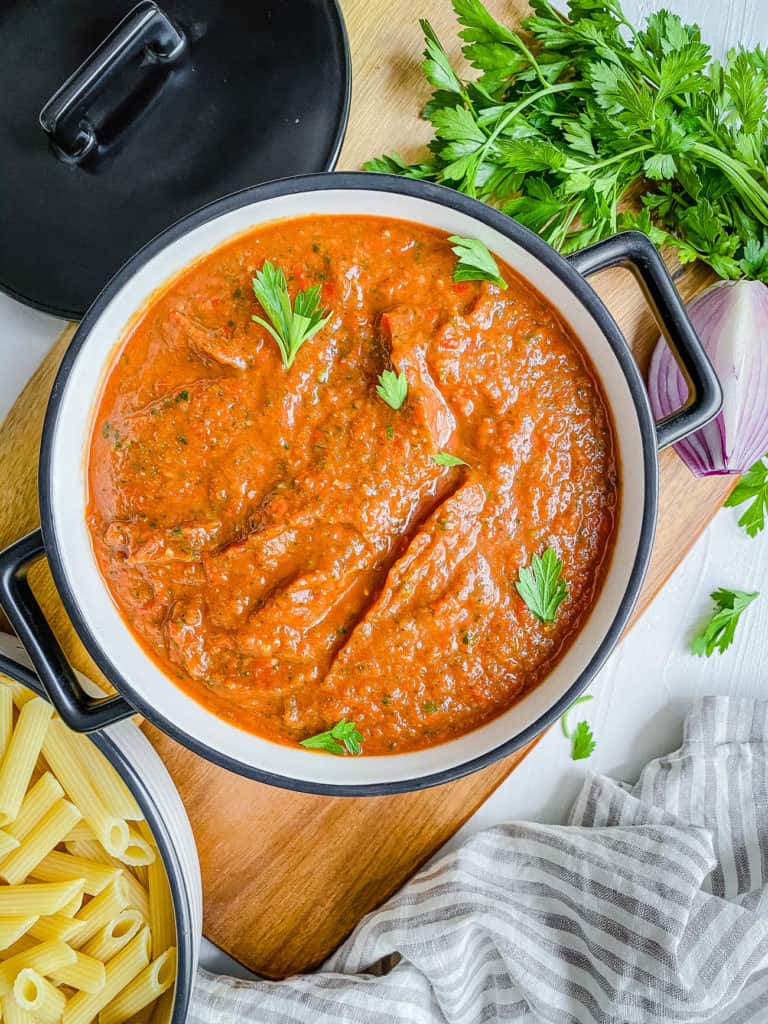 Combine the cooked pasta with the red lentil tomato pasta sauce mixture and simmer for just a couple minutes until all the flavors combine.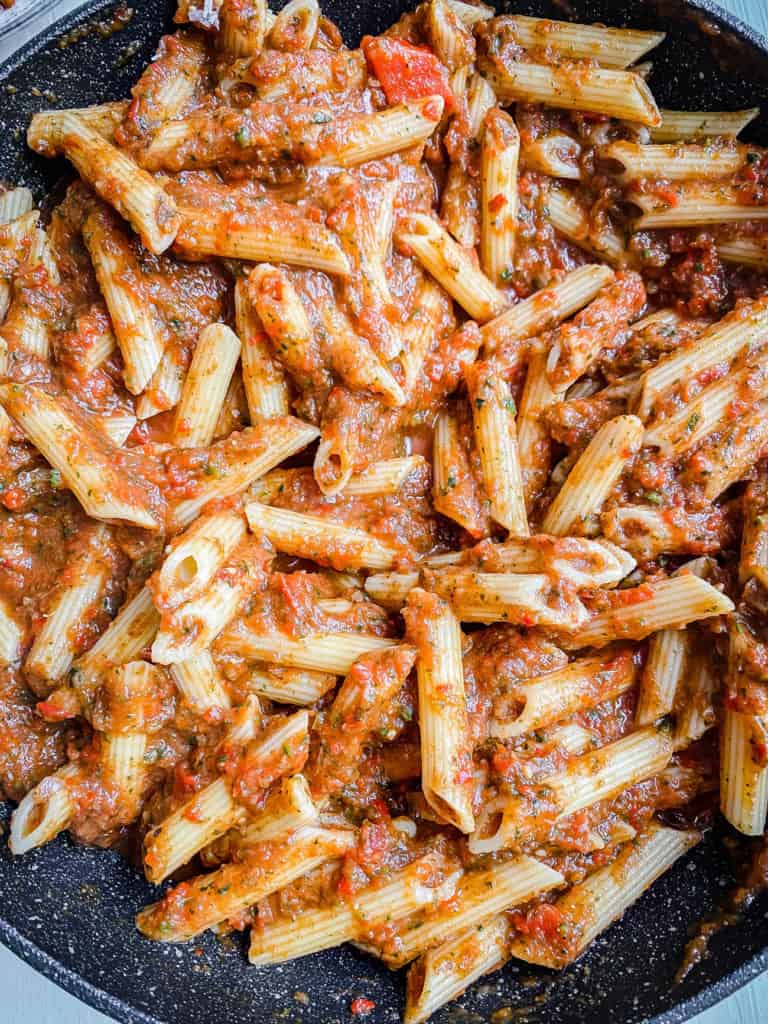 Serve: Top with parmesan cheese if using, garnish with fresh herbs, and serve warm!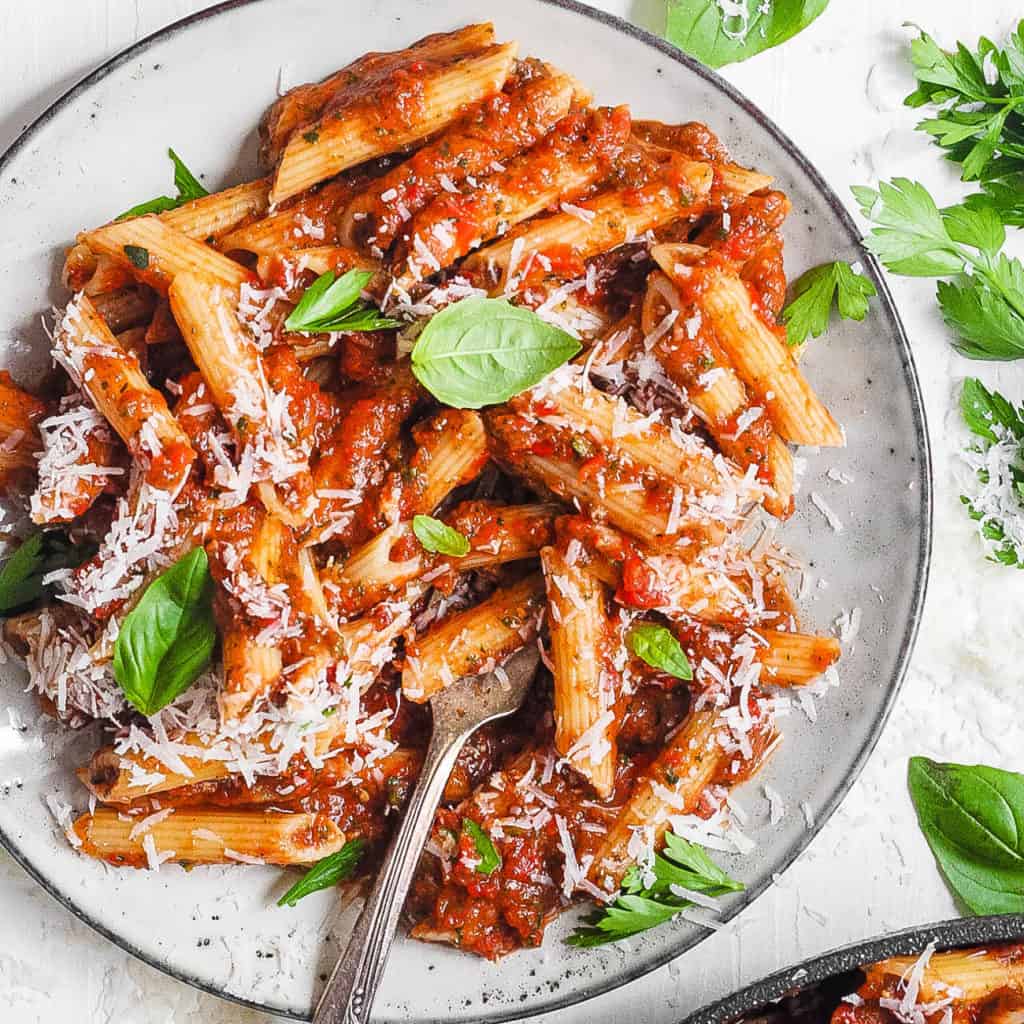 💭 Expert Tips
To ensure the pasta cooks evenly, use plenty of water and a large stock pot so there is enough room for the pasta to expand while it cooks. Don't overcook your pasta (remove it right at the time the package says) or it will get musky.
For best results, bring water to a rapid boil before adding the pasta.

As soon as you drop your pasta in the water, stir it. This prevents the pasta from sticking together or to the sides of the pot.

Serve this pasta with air fryer vegan garlic bread, a refreshing tomato avocado cucumber salad packed with leafy greens, or this heartier roasted cauliflower salad!
Don't rinse your pasta. To maintain optimal texture and flavor, I actually don't recommend rinsing the pasta after boiling. Instead I recommend tossing it directly with the sauce to prevent it from sticking and to help it maintain its texture!
📖 Variations
Vegan Lentil Pasta: Use vegan parmesan, or nutritional yeast instead of regular parmesan. If you don't want a cheesy flavor, try a drizzle of extra virgin olive oil, balsamic vinegar, a squeeze of lemon juice, coconut milk or coconut cream instead. Make sure the pasta you buy is also egg free pasta (as long as you're not buying fresh pasta, all lentil pastas should be egg free).
Add Fresh Herbs: Try some fresh basil, oregano or rosemary as a garnish. Sliced ​​black olives (while not an herb) would also taste great as a topping!
For Added Texture: (And protein) Try sprinkling some pine nuts or sliced ​​almonds on top!
❓Recipe FAQs
What Is Red Lentil Pasta?
Lentil pasta is a gluten free, healthy, traditional pasta alternative. It's typically a dried pasta, made with red lentils (red lentil flour), green lentils, or other beans like chickpeas or even edamame!
The best lentils pastas have just one simple ingredient: lentils. That's it! It typically has twice the protein and fiber of regular pasta (typically between 11 to 13g of protein per serving), with less carbs! It's great option if you have a gluten intolerance, as it's completely gluten free.
Lentil pastas don't take longer to cook either. When it comes to how long it takes to cook red lentil pasta, it will take you about the same as normal pasta or whole-grain pasta – 10 minutes should be enough time for an al dente feel!
Is red lentil pasta healthy?
Yes! Red lentil flour pasta is super healthy for you! Pasta made of lentils is considered to have more health benefits than most refined pastas. When it comes to lentil pasta vs. regular pasta, pasta made with lentils has the same number of calories per serving as regular pasta, but it is much higher in protein, high in fiber, and gluten free, so it is considered a healthier substitute than even regular wheat pasta.
Red lentils are a great source of plant protein for vegans and vegetarians. The nutritional profile of 1 cup of lentils contains 18 grams of protein, 16 grams of fiber, and over 90% of your daily value of folate, 55% of your daily value of copper, 37% of your daily iron needs, 43% DV of Manganese, and 20% of your DV for most B vitamins and Zinc.
This red lentil pasta recipe also packs a ton of vitamins, nutrients and antioxidants thanks to the veggies hidden in the sauce! One entire dish has only about 300 calories, but has 23 grams of protein and 14 grams of fiber!
Is red lentil pasta high in carbs?
Red lentil penne pasta (or any pasta shape made from red lentils) is lower in net carbs than traditional pasta, but it's still higher in carbs than many low carb or keto pasta options. Red lentil flour pasta is not keto, but it is relatively low in net carbs (100 grams has about 12 grams of net carbs).
Also, the carbs it does contain are complex, healthy carbs that are so good for you! If you're looking for something super low-carb, then try shirataki, konjac noodles or zoodles.
Where can I find Lentil Pasta?
Legume pasta has become so popular these days that you can pretty much find it at any grocery store and even online! Some of my favorites are the Trader Joe's Red Lentil Pasta, Tolerant Lentil Pasta, Barilla Red Lentil Penne or Barilla Red Lentil Rotini.
How to store lentil tomato pasta?
After the pasta has cooled, transfer leftovers to an airtight container and store in the refrigerator for up to four days. You can also freeze this pasta for up to 3 months. If you freeze it, I recommend separating individual portions into freezer safe sealed containers.
To defrost, thaw in the fridge overnight, then reheat on the stove or in the microwave. This is a great make-ahead dish – you can make a double batch and store half for a day when you don't feel like cooking!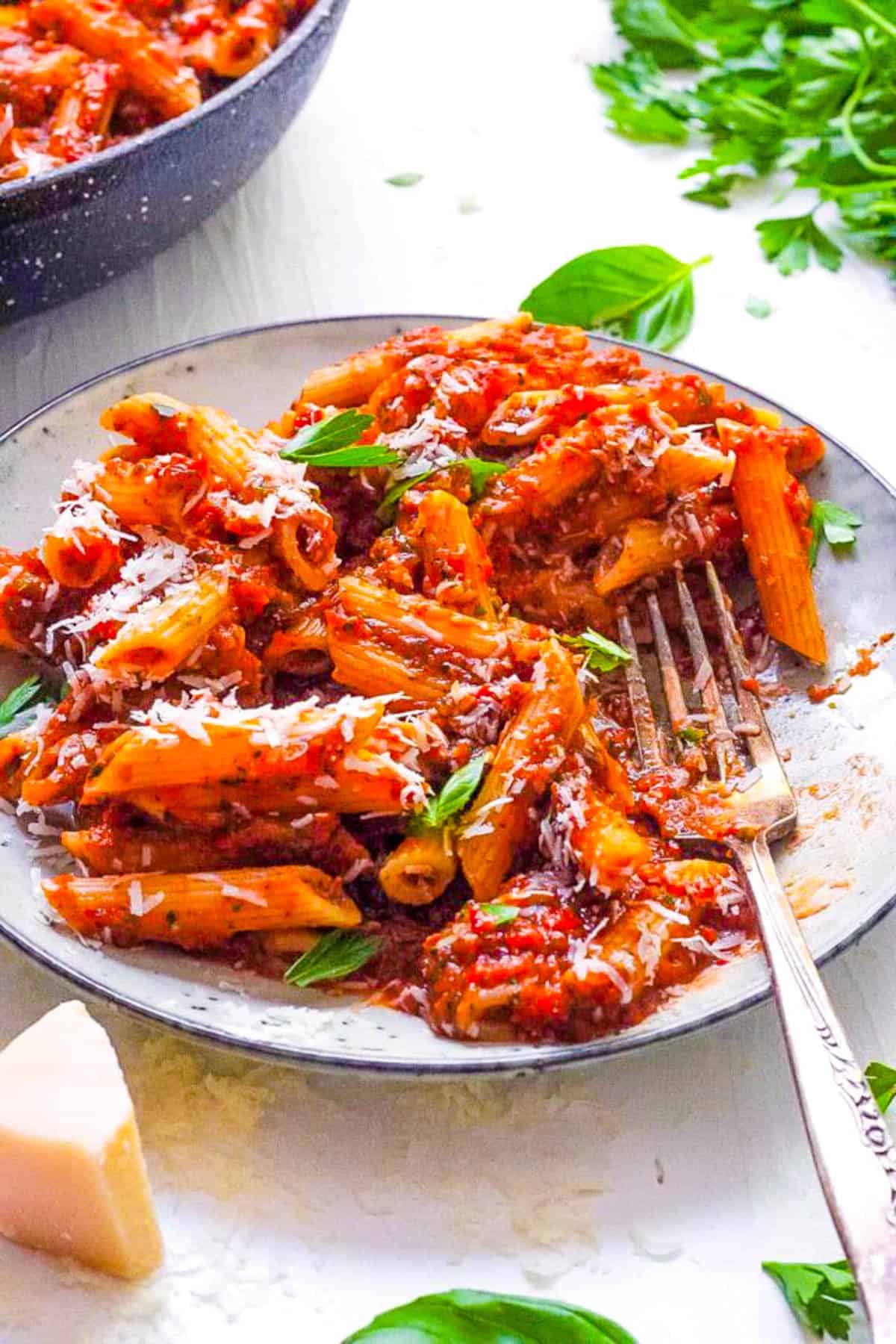 🍲 More Pasta Recipe Ideas!
Love this Vegetarian Italian recipe? Please leave a 5-star rating 🌟 in the recipe below and/or a review in the comments section further down the page!
You can also FOLLOW ME on FACEBOOK, TWITTER, INSTAGRAMand PINTEREST to see more delicious, healthy, family-friendly food, and if you have any questions, I'm here to help!
📋Recipe Card
Red Lentil Pasta Recipe
This lentil pasta recipe is the ultimate easy vegetarian meal that is filled with protein and ready within minutes! Red marinara sauce is mixed with tender nutritious vegetables and superfoods for a wholesome balanced meal that is bold in flavor.
Services: 4 servings
calories: 318calories
Use plenty of water so there is enough room for the pasta to expand while it cooks.
Bring water to a rapid boil before adding the pasta.
As soon as you drop your pasta in the water, stir it. This prevents the pasta from sticking together or to the sides of the pot.
For added texture and protein, try sprinkling some pine nuts on top!
Serve this pasta with a side salad packed with leafy greens for even more veggies!
calories: 318calories | Carbohydrates: 51g | protein: 23g | Fat: 7g | Saturated Fat: 2g | Cholesterol: 7mg | Sodium: 1481mg | Potassium: 1125mg | fiber: 14g | Sugar: 9g