This post may contain affiliate links. As an Amazon Associate, I earn from qualifying purchases. Please read my disclosure.
This delicious, comforting mexican bean soup topped with avocado and tortilla chips is full of authentic Mexican flavors. Easy, healthy, and versatile, this hearty soup can be made vegan and is naturally gluten free!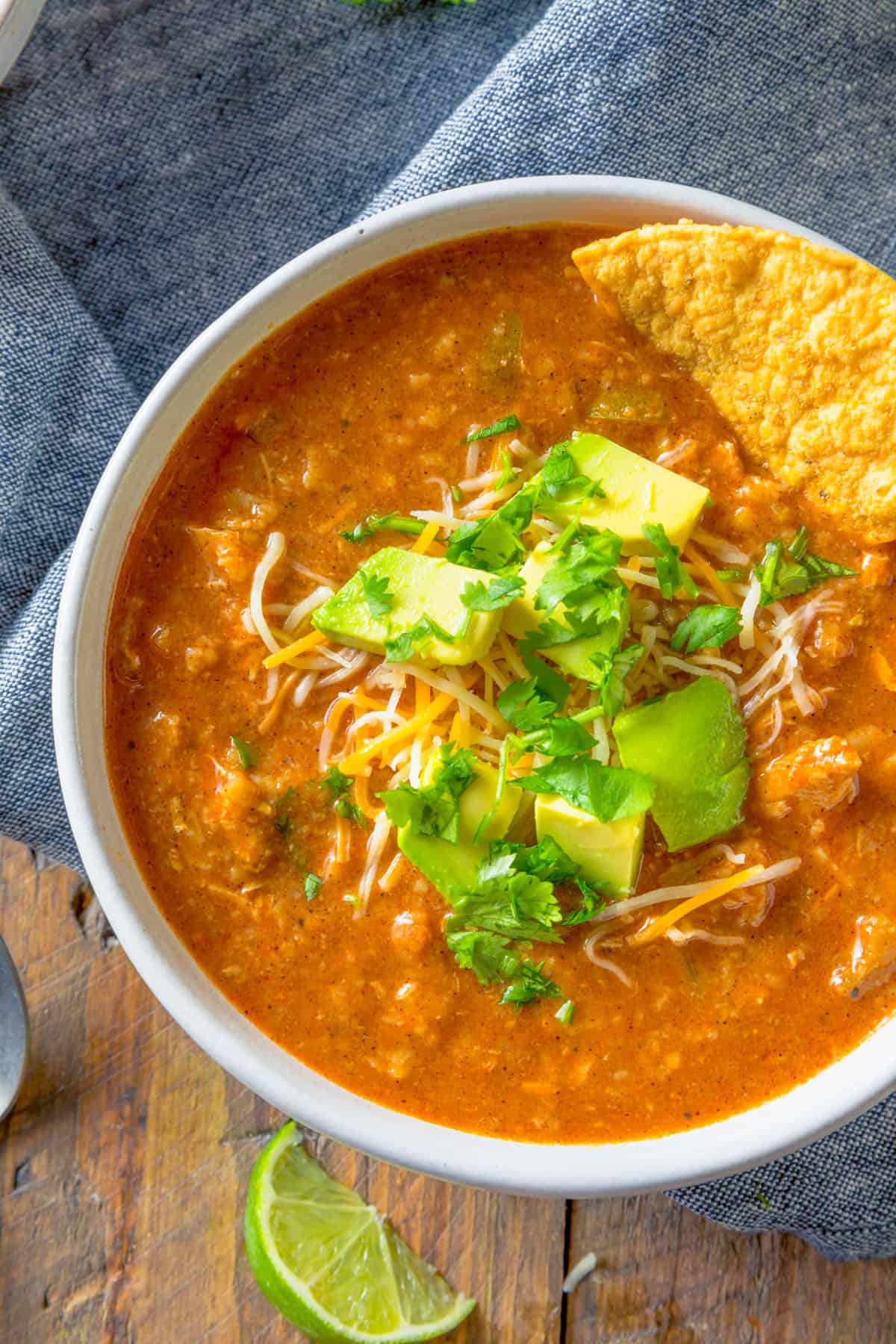 We have been making a lot of soups and stews in our house lately. Mainly because: as a busy parent, they are such easy go-to-one-pot meals; soups are super easy for kids to eat (and they're a great way to pack in some extra veggies), and soups are perfect in colder weather!
I got this recipe from my sister-in-law, who has turned this soup into a bit of a family favorite. Kids love it, babies love it, and husbands/partners love it too 🙂 If you love Mexican food, you will love this soup!
The best thing about Mexican bean soup is you can add any mix-ins you like, all of which are delicious and healthy. Some of our favorites include: avocado (1 tbsp per bowl), diced red onion, chopped cilantro, a couple of tortilla chips – crumbled, and shredded Mexican cheese (1 tbsp per bowl).
👩🏽‍🍳 Why This Recipe Works
Great for busy weeknight dinners
Packed with amazing flavors and fresh veggies
Moderate heat
hearty meatless recipe
Healthy meals
The ultimate comfort food
Perfect for the entire family
Warming for cold winter days, but delicious any time of year!
Best Mexican bean soup recipe ever!
🥘 Ingredients
This Mexican veggie soup is packed with healthy ingredients, most of which you may already have in your pantry! For detailed instructions and nutritional information, see the recipe card at the bottom of this post.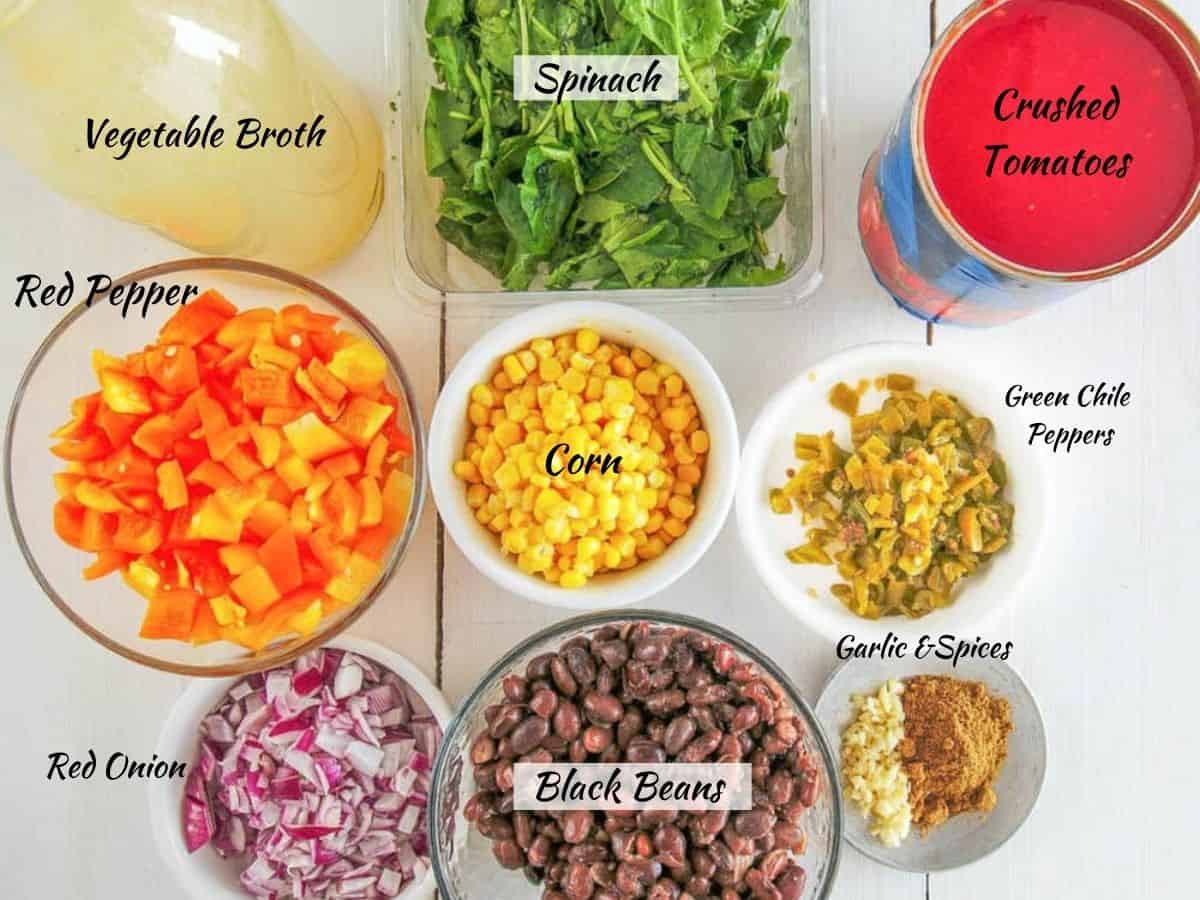 Black Beans: You'll need three cans of beans drained and rinsed. You could also use dried black beans, but it will take longer to prepare. You could also use a combination of beans such as pinto beans, red kidney beans, cannellini beans or navy beans, and black beans.
Horn: Use frozen corn, or fresh. Frozen is good all year long!
Red Onion & Red Bell Pepper: You'll need one red onion finely diced, and 4 bell peppers diced for this hearty meal. For the bell peppers, you can use a variety of colors, or just one color depending on what you like.
Spinach: If possible, use organic spinach. You'll need one 10-ounce package of pre-washed spinach.
Green Chiles: Adds a bit of extra spice and depth. They aren't super spicy but add a nice flavor.
Crushed Tomatoes & Vegetable Broth: There are many different types of canned tomatoes. Be sure to use crushed tomatoes. Veggie broth helps to thin out the soup.
Garlic Cloves And Cumin: This enchilada soup is simply seasoned with 5 cloves of fresh garlic, and 3 tablespoons of cumin. If you want to add more spice and seasoning consider adding bay leaves, chili powder, chipotle chile or chipotle peppers, Mexican oregano, or serrano peppers.
Toppings: Tortilla strips, diced avocado or guacamole, fresh cilantro, shredded Mexican cheese or grated cheddar cheese would all taste great with this easy Mexican bean soup recipe! For a spicy bean soup, feel free to add hot sauce. To make vegan Mexican soup, just use vegan shredded cheese or omit the cheese altogether.
🔪 How To Make Mexican Bean Soup
Step 1: Heat oil in a large pot or dutch oven over medium heat. Sauté peppers, onions, and garlic until the peppers and onions are slightly translucent.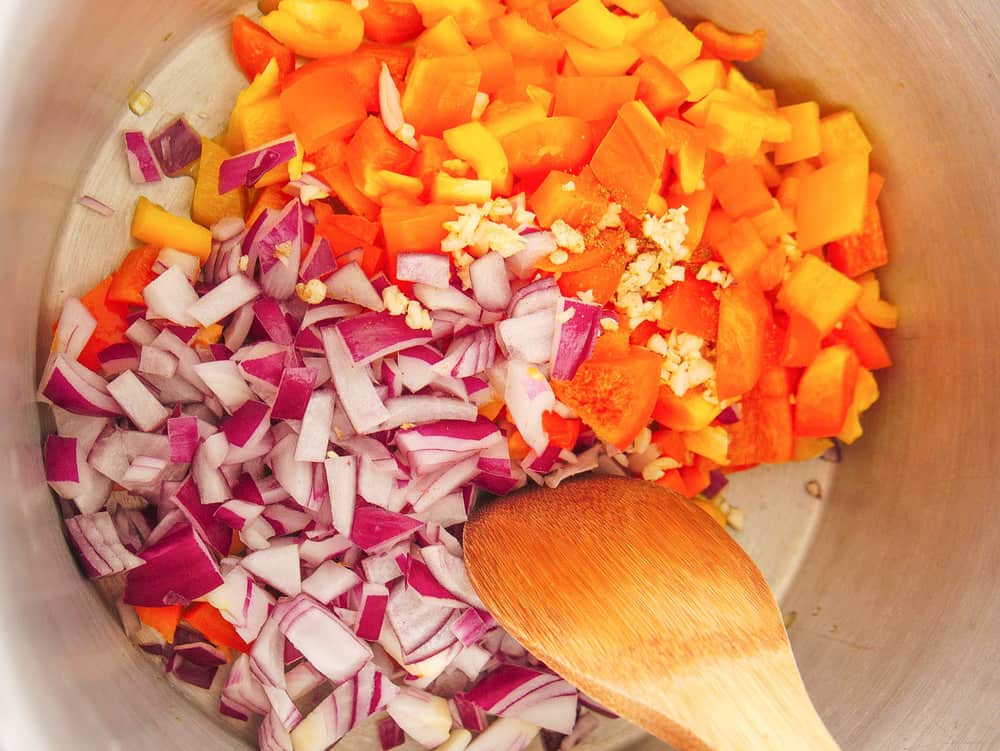 Step 2: Add the spinach and cumin when the pepper mix is ​​done cooking. Cook an additional 5 minutes over medium-high heat.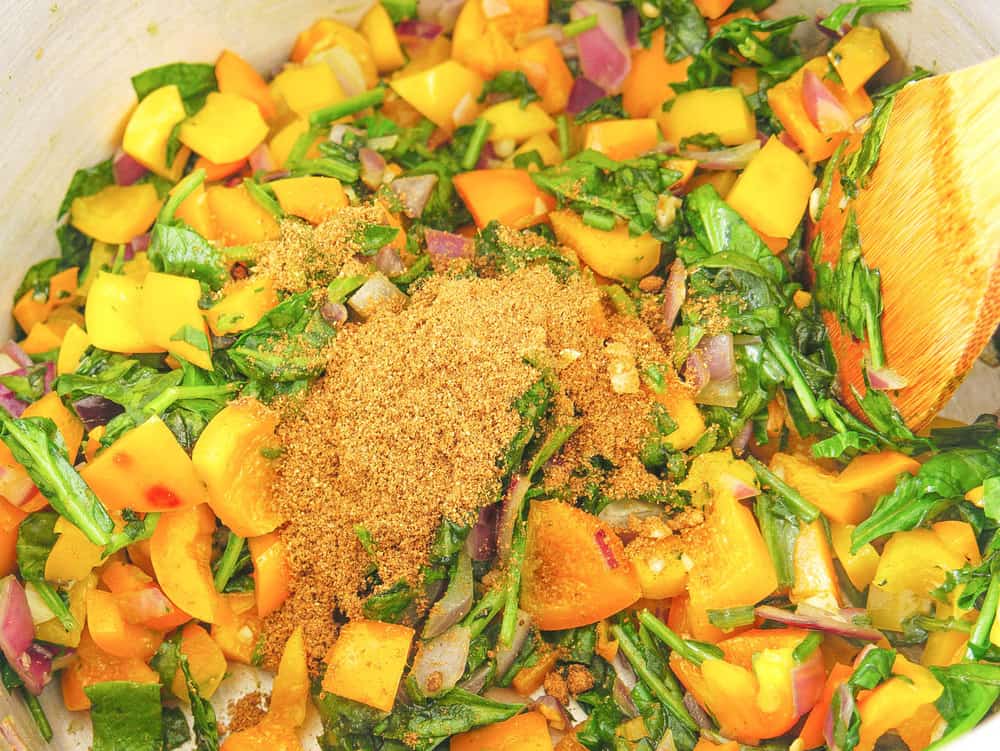 Step 3: Add tomatoes, green chile peppers, and broth – bring to a boil and cook 15-20 minutes until the ingredients are soft enough to puree.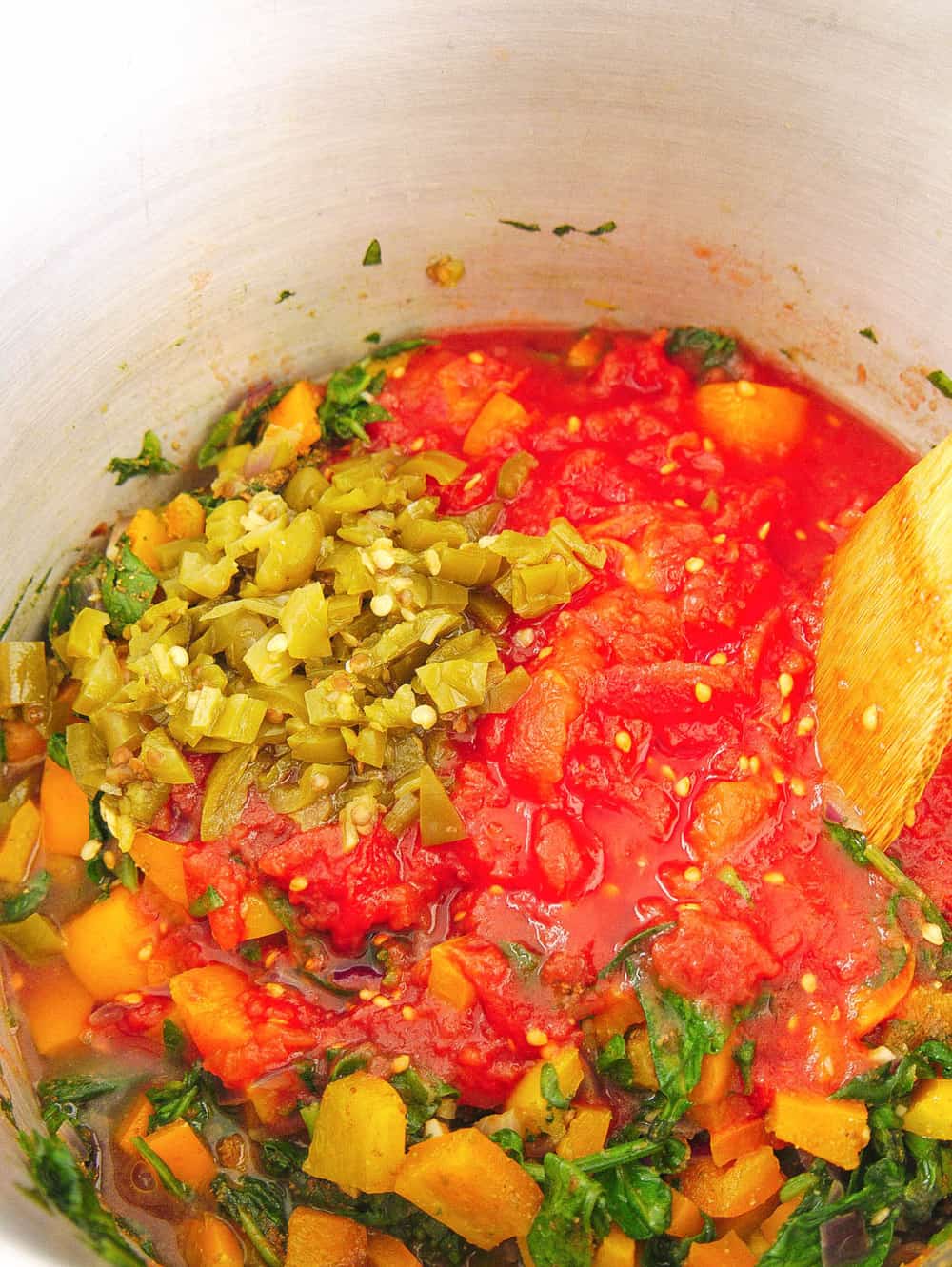 Step 4: Blend with an immersion blender until the soup is smooth. Or use a potato masher to combine the ingredients. Season with salt to taste.
Note: If you'd prefer a thicker base to this vegan enchilada soup you can add one can of black beans to the base of the soup and blend it into the broth. Another option is to stir in a tablespoon of cornstarch with water to create a paste and stir that into the soup.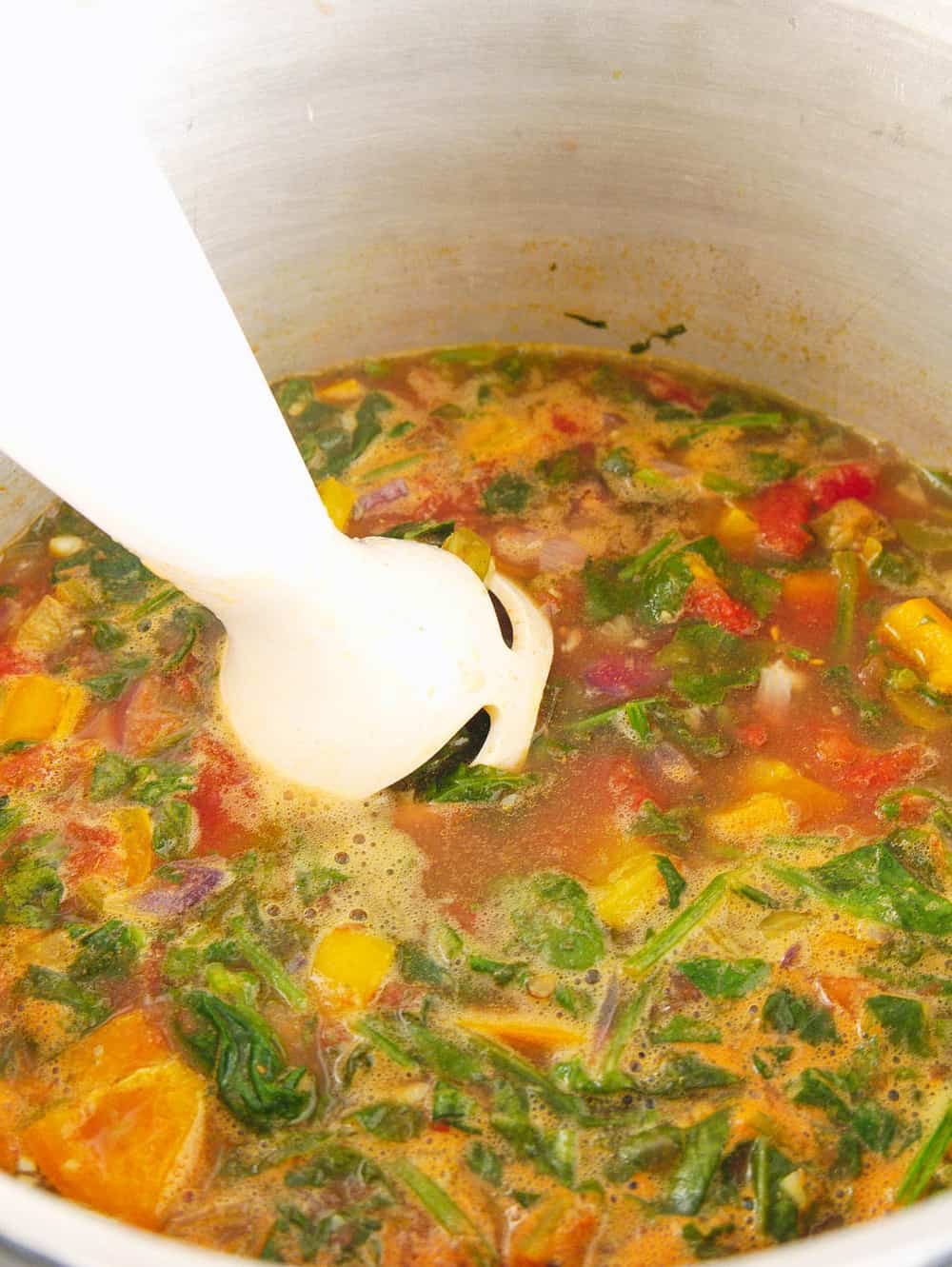 Step 5: Add whole corn & black beans and simmer on low/med-low heat for 10 minutes until all of the ingredients are cooked through.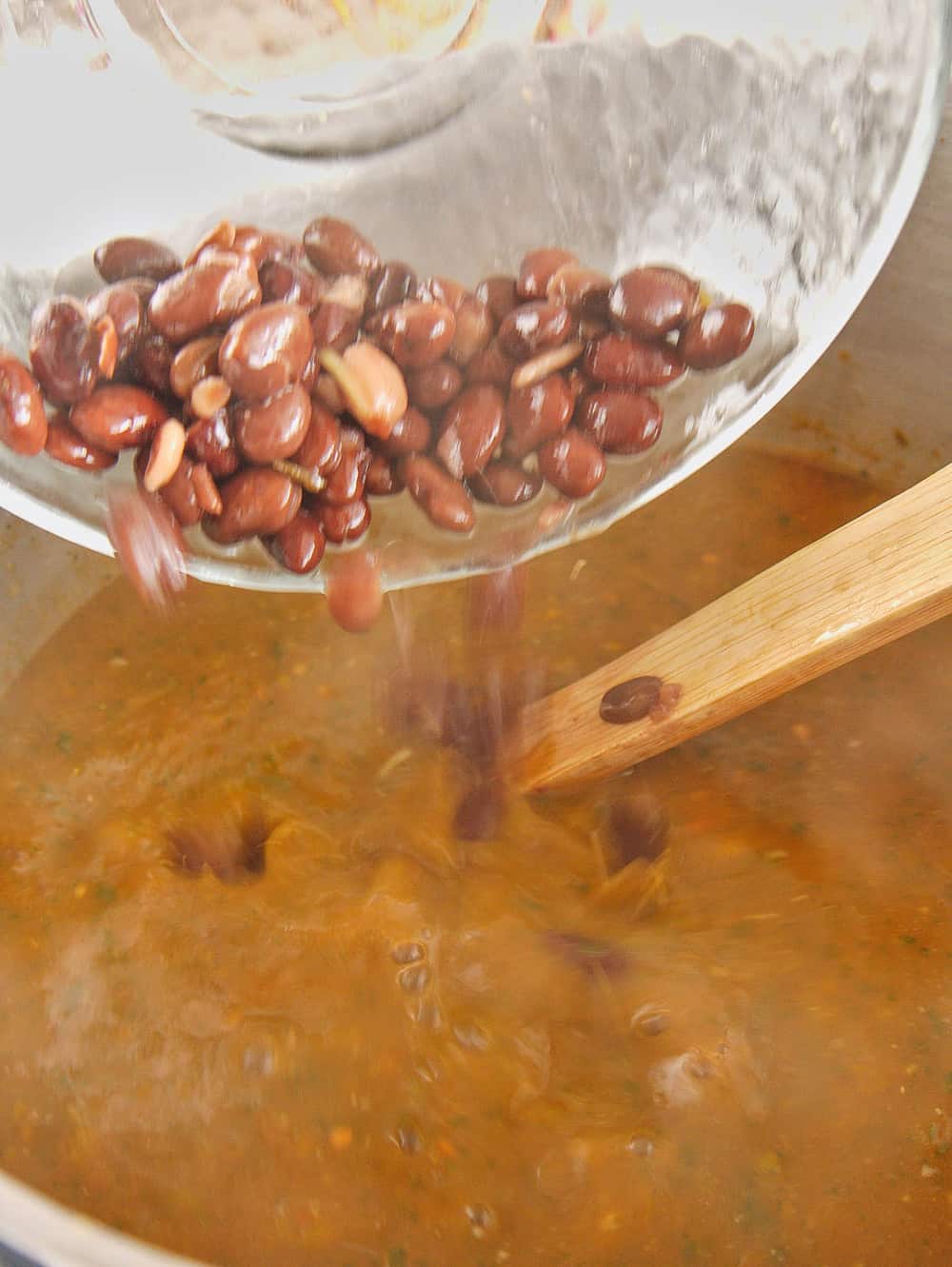 Step 6: Serve this hearty dish with toppings and enjoy!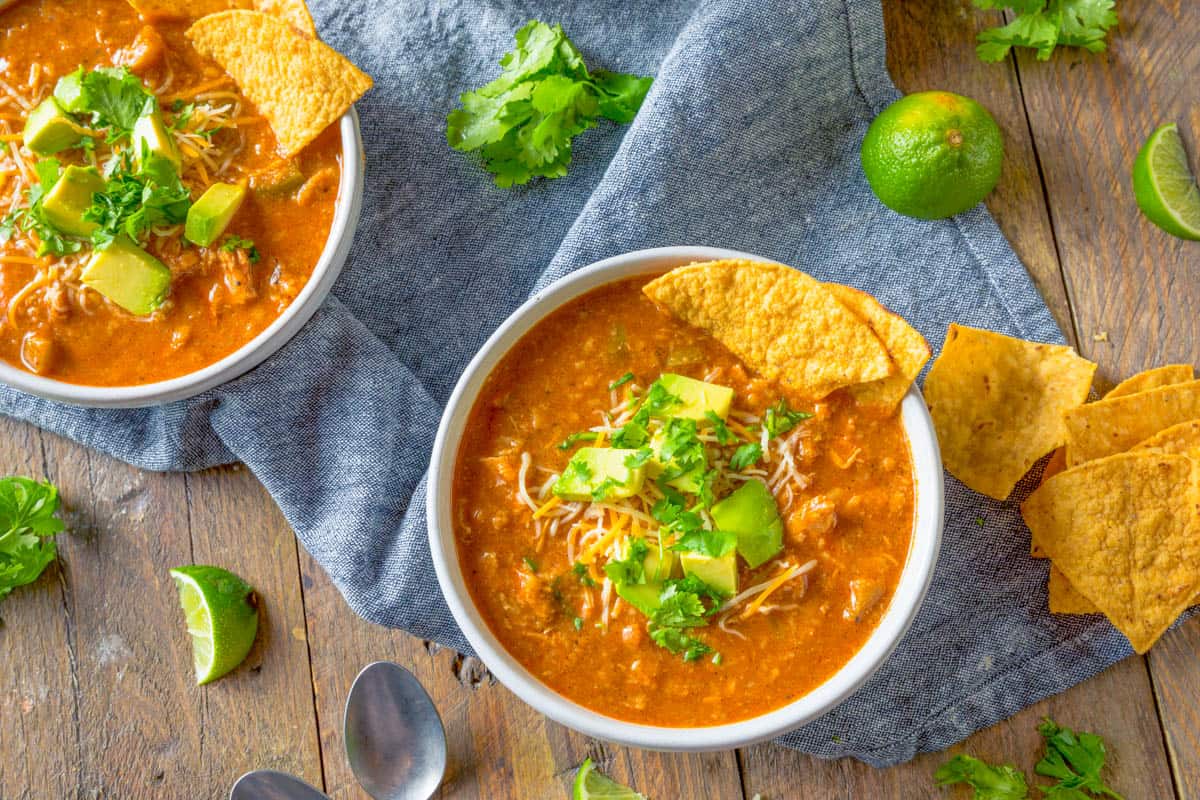 ❓Recipe FAQs
Why is bean soup good for you?
This vegetarian Mexican soup is packed with veggies and plant protein, making it a super healthy meal.
Here's why Mexican bean soup is so good for you:
#1 | High in Protein & fiber: The black beans and cheese in this soup make it high in protein at 12.6 grams per serving. The black beans, corn, and other veggies make this soup high in fiber with 11.6 grams. That's 40% of your daily recommended fiber in one bowl of soup! Including fiber in your diet is important for digestion and is what makes this soup hearty without being high in calories.
#2 | Rich in Vitamins and Nutrients: This soup is chock full of veggies with onions, peppers, garlic, and spinach. The added spinach is a superfood because it's high in vitamins A, C, and K, magnesium, iron, and manganese.
#3 | Low in Fat and Calories: One serving of this black bean tortilla soup has 150 calories and 6 grams of fat – which means that you can go back for seconds and thirds and still end up with a light yet filling meal.
What kind of beans are Mexican?
When you think of Mexican beans, you probably think of pinto beans as the main type of bean. But there are actually 5 types of beans that are most common in Mexico: Pinto beans, Peruano beans, Mayocoba beans, Flor de Mayo, and Black Beans.
Why do you add vinegar to bean soup?
Vinegar tends to break down some of the carbs in beans that make them hard to digest, and also happens to add a bright flavor to the bean soup as well!
How do you store Mexican bean soup?
To Store In The Fridge: Allow this vegetarian enchilada soup to cool to room temperature. Transfer to an airtight container. Store in the fridge for up to 5 days. Reheat over the stovetop or in the microwave. This soup tastes even better the next day!
To Store In The Frieza: I love batch cooking soups as they are great to freeze. Simply let the soup cool completely after cooking and then pour into a sealable freezer container or portion into ziplock bags. The soup will keep for 3 months in the freezer. To defrost, just warm in the microwave on the defrost setting or reheat on the stovetop.

🍽 How To Serve
Add a variety of toppings to this Mexican corn and bean soup to take it to the next level! Some of our favorites include:
Avocado slices or guacamole
Diced red onion
Diced tomatoes, pico de gallo, or pineapple pico de gallo
Chopped cilantro or other fresh herbs
Crumbled tortilla chips
File wedges
lime juice
Shredded Mexican cheese
Plain, whole-milk Greek yogurt
sour cream
Adobo Sauce
Next time I prepare this tortilla bean soup, I'll serve it with…
💭 Expert Tips
I used frozen corn for ease, but you can use fresh.

Make it a full meal by serving it alongside other Mexican foods like nachos, tacos, burritos, or even tostadas!
Feel free to throw any veggies into this Mexican bean and corn soup that you have on hand. Carrots, squash, zucchini, or even sweet potatoes would taste great pureed into the soup!

To save time, buy pre-chopped onions, peppers and garlic.

Feel free to add more heat, or if you're serving this to kids, add less heat.
Prepare in the slow cooker for a meal that's ready when you get home!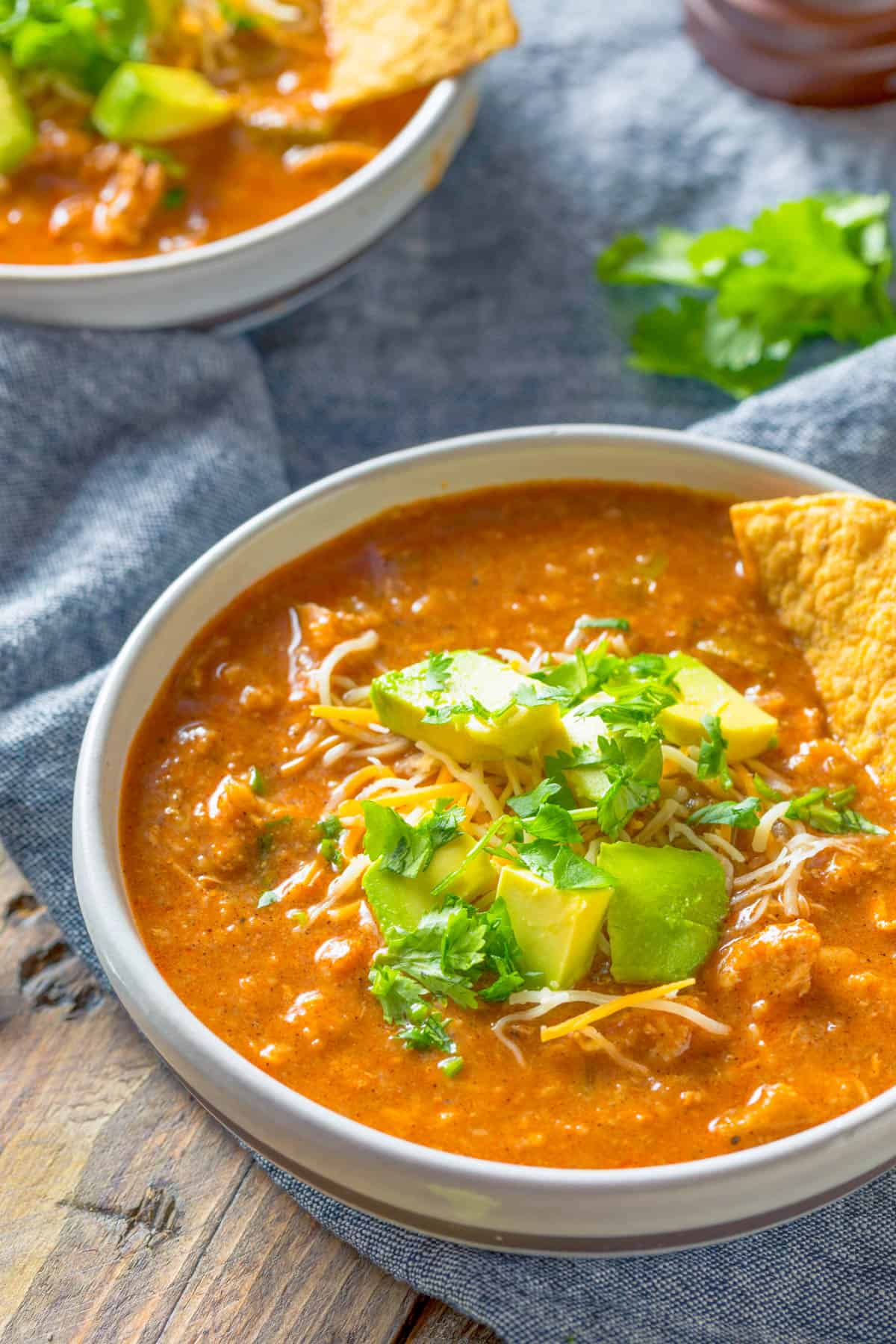 🍲 More Delicious Vegetarian Soups!
LOVE THIS RECIPE? Please leave a 5-star rating 🌟 in the recipe card below and/or a review in the comments section further down the page!
You can also FOLLOW ME on FACEBOOK, TWITTER, INSTAGRAMand PINTEREST to see more delicious, healthy, family-friendly food, and if you have any questions, I'm here to help!
📋Recipe Card
mexican bean soup
This delicious, comforting Mexican Bean Soup topped with avocado and tortilla chips is full of authentic Mexican flavors. Easy, healthy, and versatile, this soup can be made vegan and is naturally gluten free!
Services: 10 servings
calories: 248calories
The soup will keep for 2-3 days in a sealed container in the refrigerator.
If you want to freeze this soup, cool it down first, then transfer it to an airtight container and freeze. It will keep in the freezer for up to 3 months! When you're ready to serve it, either place on the stove or defrost in the microwave using the defrost setting.
I used frozen corn for ease, but you can use fresh.
Feel free to throw any veggies into this soup that you have on hand. Carrots, squash, zucchini or even sweet potatoes would taste great pureed into the soup!
Always use the freshest ingredients you can and preferably organic.
To make this recipe vegan, just omit the cheese as a topping.
Note: Nutrition information for 1 serving is 1.5 cups of soup, 1 tbsp shredded cheese, 3 tortilla chips, 1 tbsp diced avocado.
Adapted from AllRecipes
Serving: 1.5cups | calories: 248calories | Carbohydrates: 39.2g | protein: 12.6g | Fat: 6g | Saturated Fat: 1.5g | Sodium: 241.1mg | fiber: 11.6g | Sugar: 1.4g