Ground Beef and Sauerkraut Soup is so tasty and the sauerkraut gets sweet and tender as it cooks in this flavorful low-carb soup! Even if you aren't sure if you like sauerkraut, I urge you to give this tasty soup a try!
PIN Ground Beef and Sauerkraut Soup to try it later.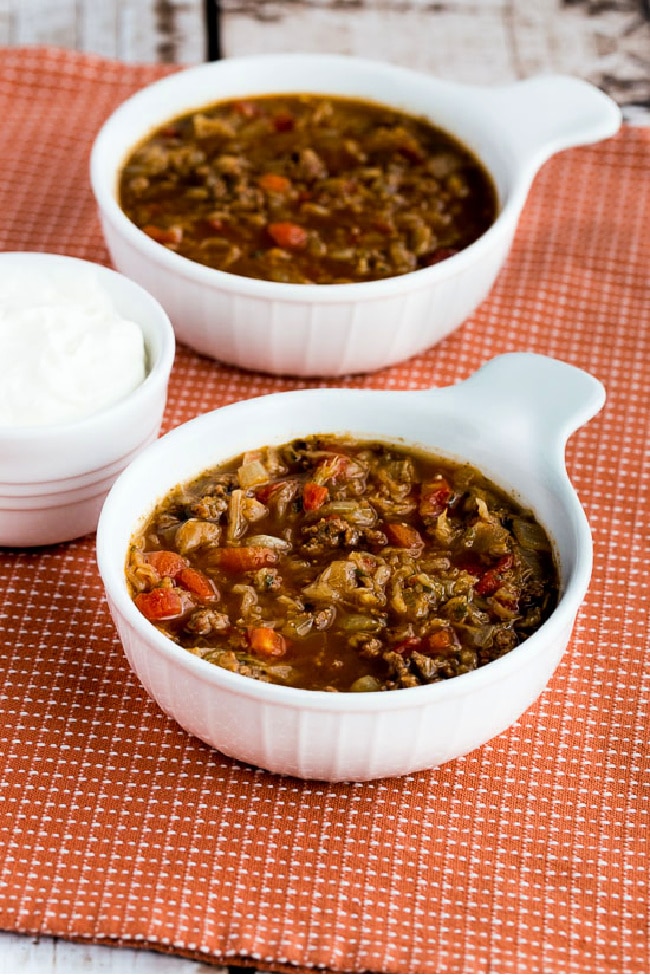 If anyone just rolled their eyes a bit at the mention of sauerkraut in this Ground Beef and Sauerkraut Soup, please stay with me a bit before you dismiss this recipe. There are a few good reasons to give this soup a chance!
First, fermented foods are so healthy which is why they're suddenly trendy, so the sauerkraut in the soup is a very good thing. Second, this soup is super low in carbs, easy to make, and freezes well. Third (and most important for people who are skeptical about the sauerkraut!) simmering sauerkraut in soup makes it sweet and breaks it apart into the soup, so that when you're eating the finished soup you might not even realize it contains sauerkraut.
Add sour cream if you'd like (which is the way I will always eat it), and this soup is absolutely delicious!
A few years ago a faithful reader told me that she makes this soup every time she diets more strictly for a few weeks, and my friend Bonnie's husband George adores it too. I've also made it quite a few times for my annual soup party, and people love it every year. And I make it myself every January, which is why I've updated the photos a couple of times!
What ingredients do you need for this recipe?
What sauerkraut is good for Ground Beef and Sauerkraut Soup?
You can use sauerkraut in a jar or a can, or fresh sauerkraut sold with the refrigerated foods for this soup. Any of those options will be delicious!
Why is sauerkraut such a healthy food?
Sauerkraut is made from cabbage, which is a nutritious cruciferous vegetable. Sauerkraut contains fiber, vitamins, and minerals. It's also a fermented food so it helps the digestive tract create beneficial probiotics.
More recipes with sauerkraut:
Want more low-carb soup recipes using cabbage?
If you're a cabbage fan like I am, check out Low-Carb and Keto Soups with Cabbage to find more soup ideas like this one!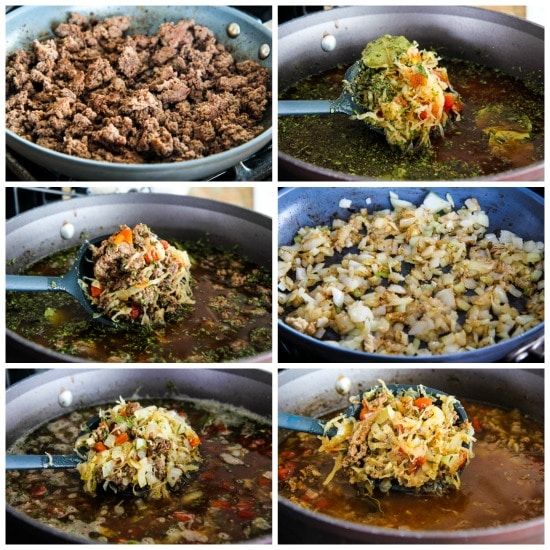 How to make this soup with sauerkraut and ground beef:
(Scroll down for complete recipe with nutritional information.)
Start by cooking the ground beef until it's well-browned. Don't rush this, because browning adds flavor.
While the beef is browning, start simmering the stock, canned tomatoes, sauerkraut, sweetener of your choice, Worcestershire Sauce or Gluten-Free Worcestershire Sauce (affiliate link), Bay Leaves (affiliate link), parsley, and Dried Sage (affiliate link) .
When the beef is well-browned, add it to the soup pot and let the soup continue to simmer.
Heat more olive oil in the same frying pan and saute the chopped onions, then add the Minced Garlic (affiliate link) and saute a few minutes more.
Add the onions and garlic to the soup and simmer on low about one hour, or until the sauerkraut has softened and broken down in the soup.
After an hour taste the soup to see if it seems too strong and add some water if needed. (Simmer a little longer if you add water.)
Season to taste with a generous amount of fresh-ground black pepper (and a little salt if desired) and serve hot, with or without sour cream.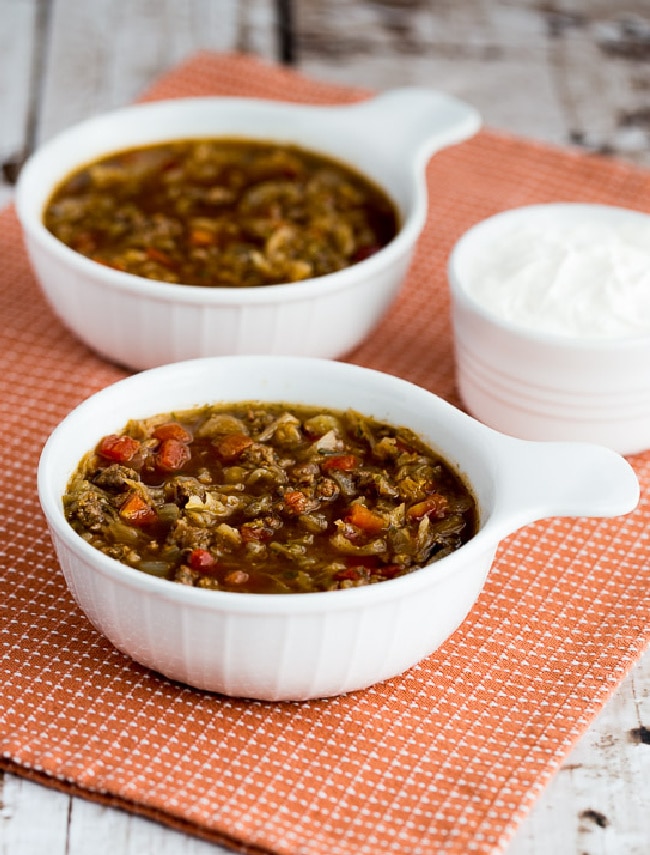 More Delicious Low-Carb Soups:
Check out Keto Cauliflower Soup Recipes or Low-Carb and Keto Instant Pot Soups to find more tasty soups like this one!
Weekend Food Prep:
This recipe has been added to a category called Weekend Food Prep where you'll find recipes you can prep or cook on the weekend and eat during the week!
Ingredients
1 lb. ground beef (see notes)

2 tsp. olive oil

2 cups chicken broth (see notes)

2 14oz. cans beef broth (see notes)

1 14.5oz. can diced tomatoes

1 14oz. can sauerkraut (see notes)

1 T sweetener of your choice

1 T Worcestershire sauce (see notes)

4 dried bay leaves

3 T thinned parsley (see notes)

1 tsp. dried rubbed sage

1 medium onion, chopped small

1 T minced garlic (or less if you're not that fond of garlic)

1-2 cups water (if needed)

salt and fresh ground black pepper to taste
Instructions
In heavy frying pan, heat 1 tsp. olive oil, add ground beef and brown well, breaking into small pieces with turner. This will take as much as ten minutes but don't rush the browning step.
While ground beef browns, combine chicken stock, beef stock, canned tomatoes with juice, sauerkraut with juice, sweetener of your choice, Worcestershire sauce, bay leaves, parsley and sage in large stock pot. Bring to a low simmer.
When beef is well browned, add to soup in pot. Deglaze pan with a bit of the soup liquid, scraping off any browned bits, and add to soup.
Wipe out frying pan and add other 1-2 tsp. olive oil. Sauté onions 2-3 minutes, until starting to soften, then add garlic and sauté 1-2 minutes more.
Add to soup, reduce heat under soup pot and let soup simmer at low heat about one hour.
After an hour, taste for seasoning and add water if soup seems too strong. Simmer 15 minutes more if adding water.
Season to taste with fresh-ground black pepper (and a little salt if desired) before serving. Serve hot, with sour cream if desired.
Ratings
I would use ground beef with less than 10% fat because I don't enjoy beef fat floating on the top of the soup; your choice on that!
This soup would be great with homemade chicken stock, or just use 1 can (14.5 oz. can) chicken broth and a little water. Start with 2 cans beef broth and add a little more if desired.
Use bottled sauerkraut if you prefer.
Use Gluten-Free Worcestershire Sauce (affiliate link) if needed. You can use 1-2 T dried parsley if you don't want to buy fresh parsley.
I know this soup was inspired by a recipe I saw somewhere, but I can't remember where I saw it!
Nutrition Information:
Yield:
8

Serving Size:
1

Amount Per Serving:
calories: 222Total Fat: 12gSaturated Fat: 4gUnsaturated Fat: 6gCholesterol: 52mgSodium: 995mgCarbohydrates: 9gfiber: 3gSugar: 4gprotein: 19g
Nutrition information is automatically calculated by the Recipe Plug-In I am using. I am not a nutritionist and cannot guarantee 100% accuracy, since many variables affect those calculations.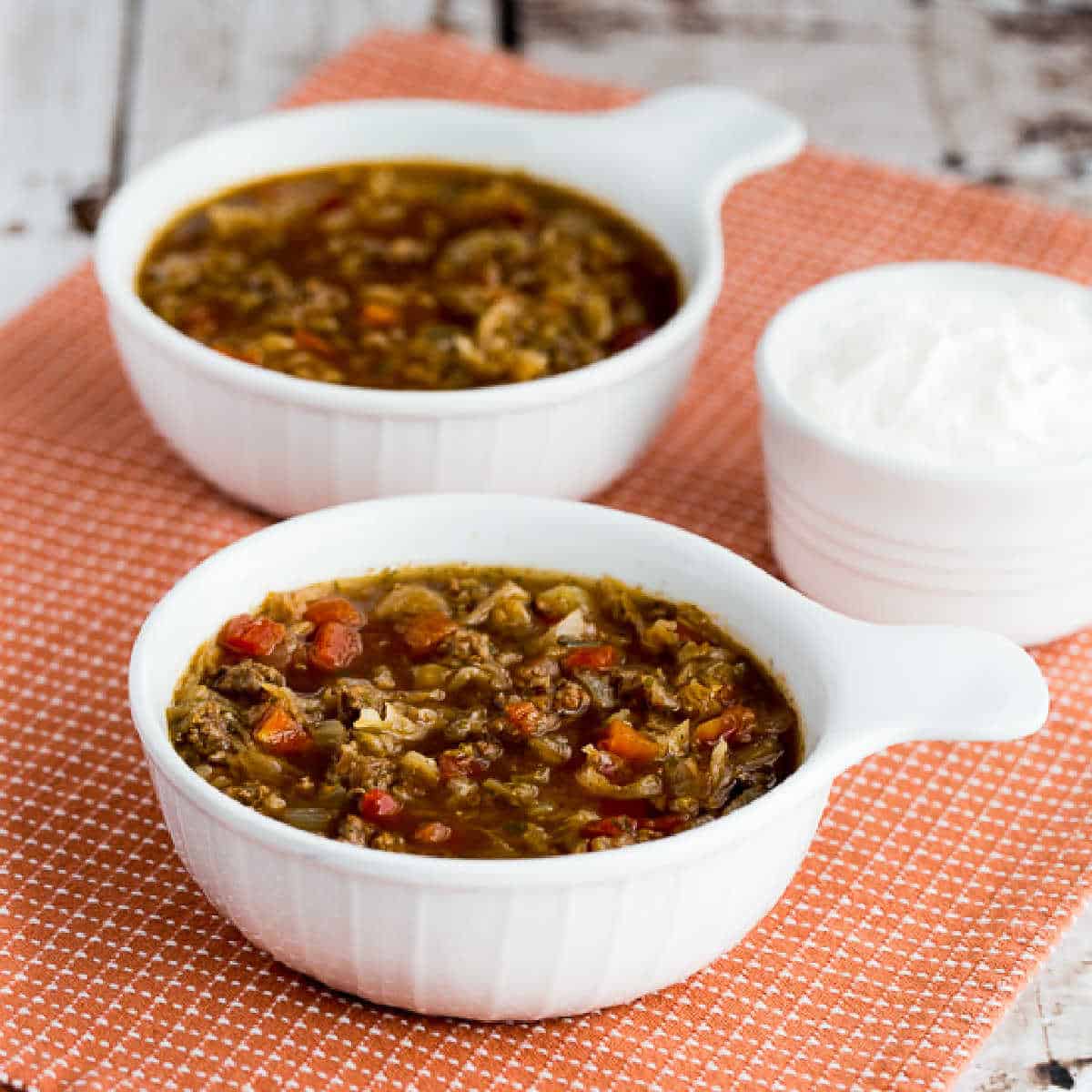 Low-Carb Diet / Low-Glycemic Diet / South Beach Diet Suggestions:
Ground Beef and Sauerkraut Soup would be great for low-carb and Keto diets and it's also a perfect Phase One lunch or dinner for the original South Beach Diet. (South Beach and low-carb diets would recommend using an approved sweetener, but even if you used brown sugar this is still a very low-carb soup.)
Find More Recipes Like This One:
Use Soup Recipes to find more recipes like this one. Use the Diet Type Index to find recipes suitable for a specific eating plan. You might also like to follow Kalyn's Kitchen on Pinterest, on Facebook, on Instagram, on TikTok, or on YouTube to see all the good recipes I'm sharing there.
Historical Notes for this Recipe:
Ground Beef and Sauerkraut Soup was first posted in 2007! This favorite recipe was improved with better photos January 2010 and again in January 2016, and the recipe was updated slightly in 2022.
Share This:
We are a participant in the Amazon Services LLC Associates Program, an affiliate advertising program designed to provide a means for us to earn fees by linking to Amazon.com and affiliated sites. As an Amazon Associate, I earn from qualifying purchases.