This post may contain affiliate links. As an Amazon Associate, I earn from qualifying purchases. Please read my disclosure.

This 4 ingredient potato soup is a thick and creamy one-pot dish with just milk, onion, butter, and potatoes! Potatoes are the star of this simple, no-fuss soup! Top with shredded cheese and green onions, or serve as-is!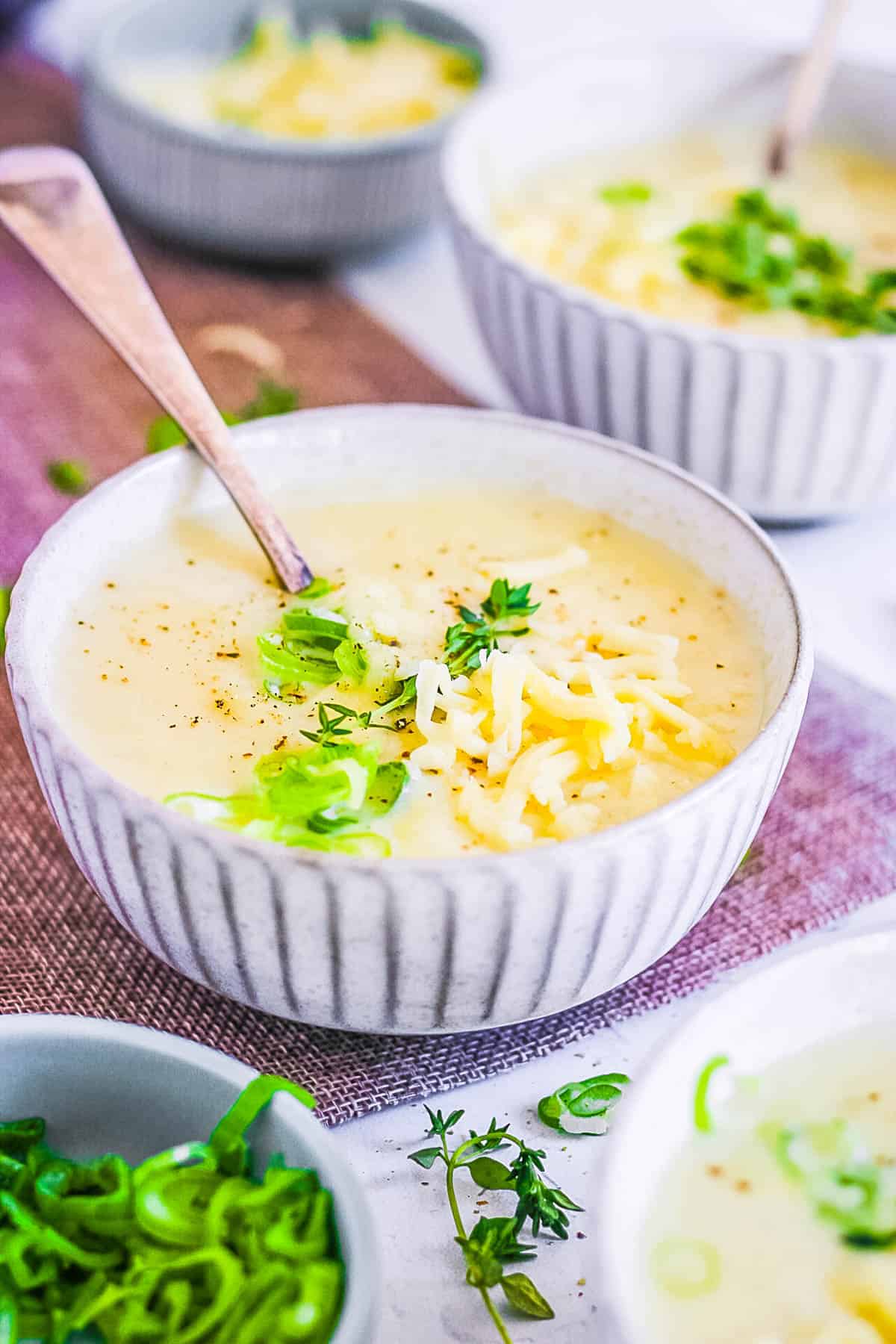 Simple recipes with minimal ingredients aren't only awesome, they're necessary! Especially when you have young kids, long work days, or both. This 4 ingredient potato soup recipe is the busy cook's dream.
It's quick, comfort-food that requires affordable pantry staples. I always have milk, onions, butter, and potatoes in my fridge and on the counter at all times. Which means if I can't find time for a grocery trip, I'm only 40 minutes away from old fashioned potato soup! Yes, please!
Latest Recipe Video!
It's ultra rich and creamy with no heavy cream. The star of this soup is the humble but versatile potato. Russet potatoes are high in starch and low in moisture, which is the perfect combination for healthy potato soup. They fall apart, give the soup body, and act as a natural thickener.
The best part about this flavorful potato soup without flour is that you can customize this basic recipe in so many ways! Load it up with your favorite toppings or with some garlic bread, serve it as a main dish for an easy dinner, use it as a side dish for a larger meal, make it vegan — the possibilities are endless. I promise this recipe will quickly become one of your favorite comfort foods!
👩‍🍳 Why This Recipe Works
Simple 4 ingredient potato soup
No heavy cream necessary!
Perfect for the winter months
Made with basic ingredients
Super creamy texture
The whole family will love it
Easy soup recipe for a cold day
Quick potato soup for busy weeknights
🥘 Ingredients
This easy potato soup calls for four simple ingredients, plus water and salt! You likely have all of these ingredients on hand already, but if you don't, you can find them at any grocery store.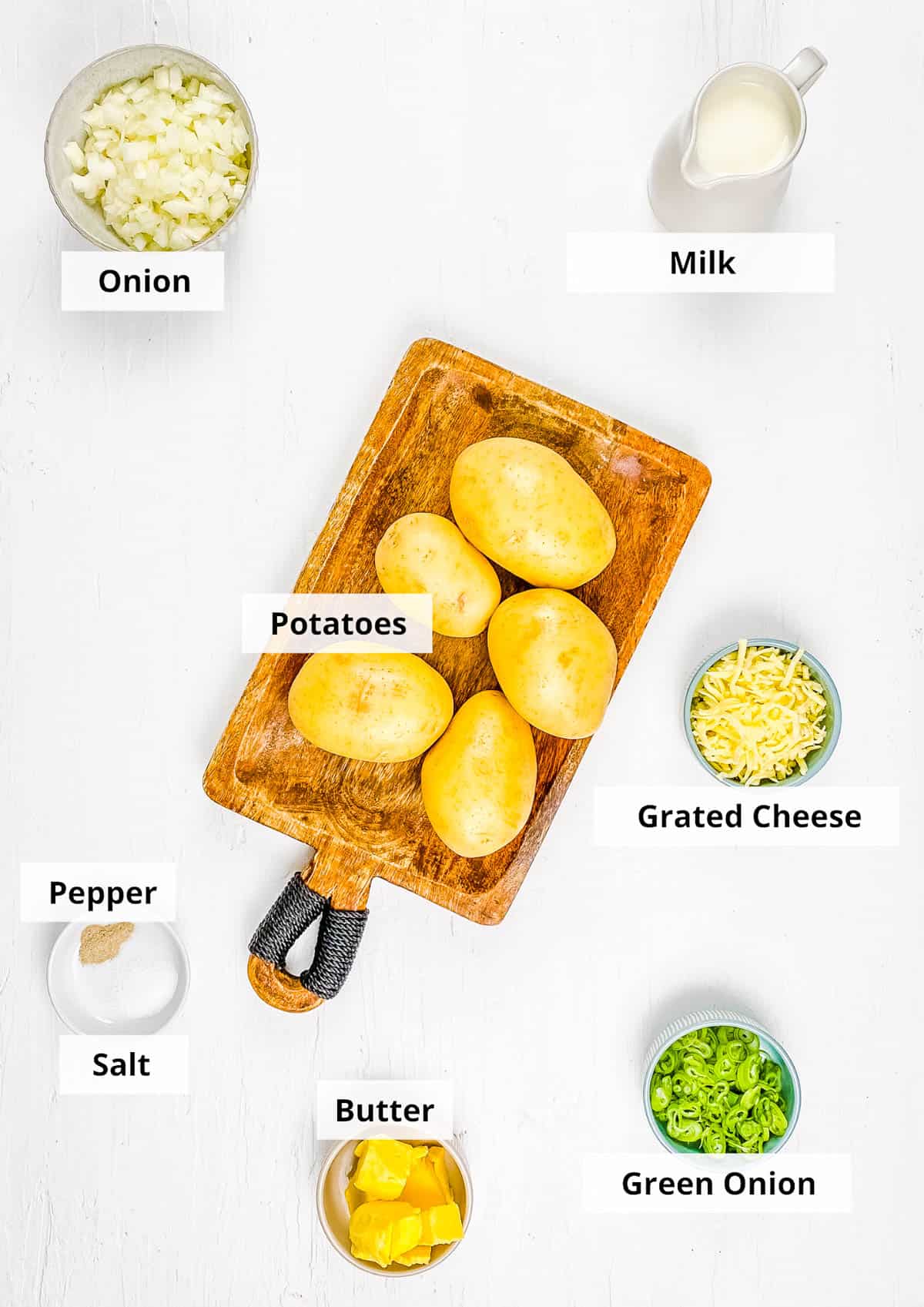 Unsalted Butter: To sauté the onion and add flavor to this delicious soup. Olive oil is a great option if you don't mind the olive flavor coming through in the soup.
Onions: Sweet onion, yellow onion, or white onions all work great.
Potatoes: For best results, use starchy or all-purpose potatoes for this recipe. Waxy potatoes like red potatoes or baby potatoes aren't as tender when cooked, which makes the soup too chunky and not creamy. The best potatoes to use for this creamy potato soup are russet potatoes or yukon gold potatoes.
Milk: I recommend whole milk for extra creaminess, but skim milk works too. For an even richer soup, swap with half and half.
Water: To boil the potatoes and create the right thickness.
Salt & Pepper: Don't forget to season! Salt is crucial for flavorful food.
Optional Toppings: Sliced ​​green onions and/or shredded cheese!
📖 Variations
My favorite way to customize this 4 ingredient soup is with toppings, but it can easily be made dairy-free and vegan if desired.
Toppings: Add your favorite toppings or try shredded cheese, green onions, crispy bacon, diced red onion, black pepper, spring onions, sour cream, sunflower seeds, or finely chopped broccoli.
Make It Vegan: To make this easy potato soup recipe vegan friendly, just switch out all of the dairy ingredients with vegan alternatives. Swap the butter with vegan butter and the milk with unsweetened plant milk or vegetable broth. I prefer unsweetened almond milk or coconut milk since the flavor is relatively neutral.
4 Sweet Potato Soup Ingredient: Just swap the regular potatoes for sweet potatoes!
Easy Potato Cheese Soup:

Add 3/4 cup of cheddar cheese when you add the milk. If the mixture is too thick, add more milk as necessary.
🔪 Instructions
Here's simple step-by-step instructions to make this 4-ingredient potato soup recipe!
Sauteed Onion: In a large pot over medium heat, sauté the onion in one tablespoon of the butter until it's translucent.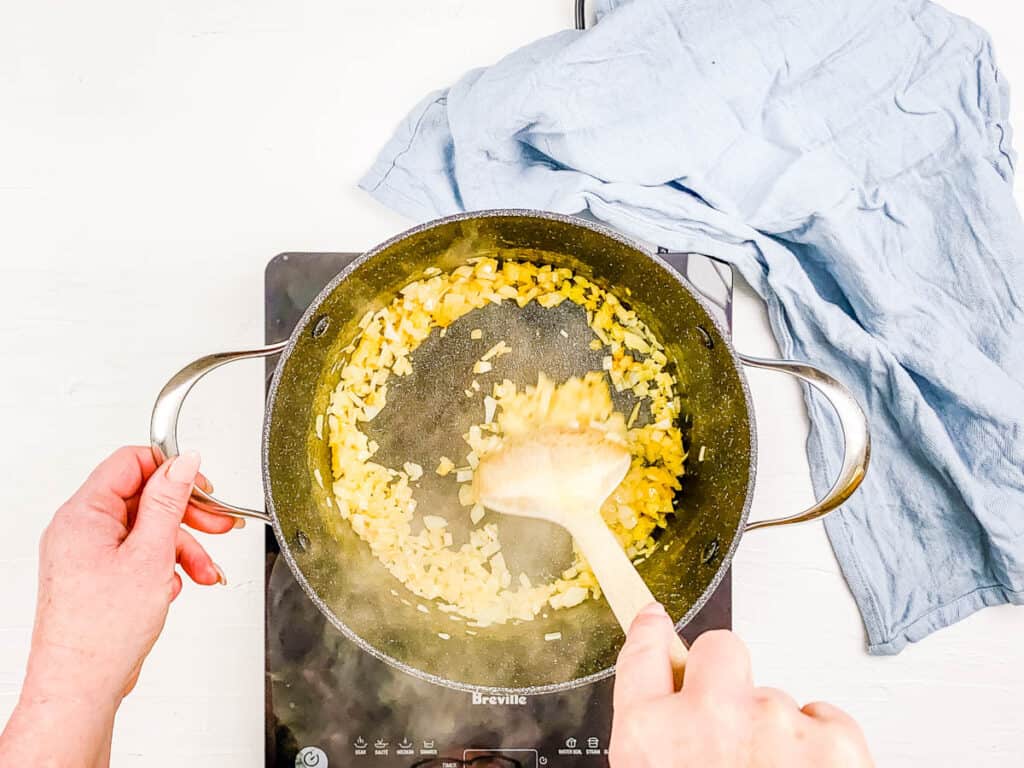 Simmer Potatoes: Add the diced potatoes and two cups of water. Increase the heat to medium-high and bring to a boil. Once it boils, reduce the heat and simmer until the potatoes are fork-tender, about 15 minutes.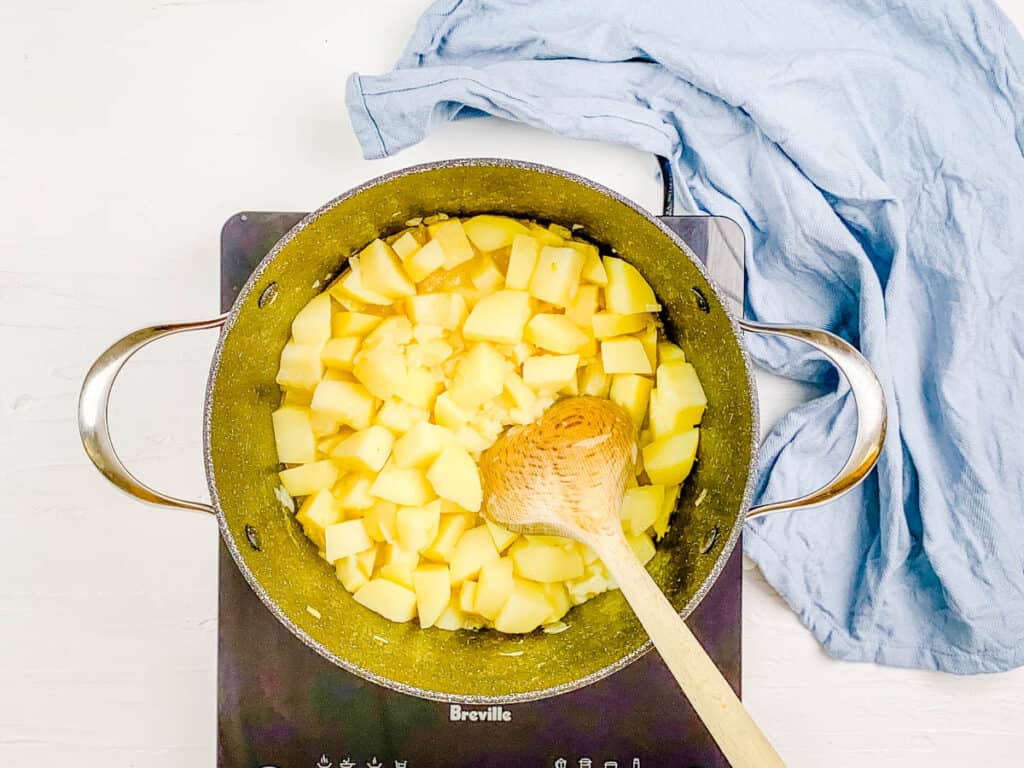 Mash Potatoes: Remove the pot from the heat and mash the potatoes. If you use an immersion blender, add the milk before you mash. If you like a chunky soup, use a potato masher and leave some potato chunks.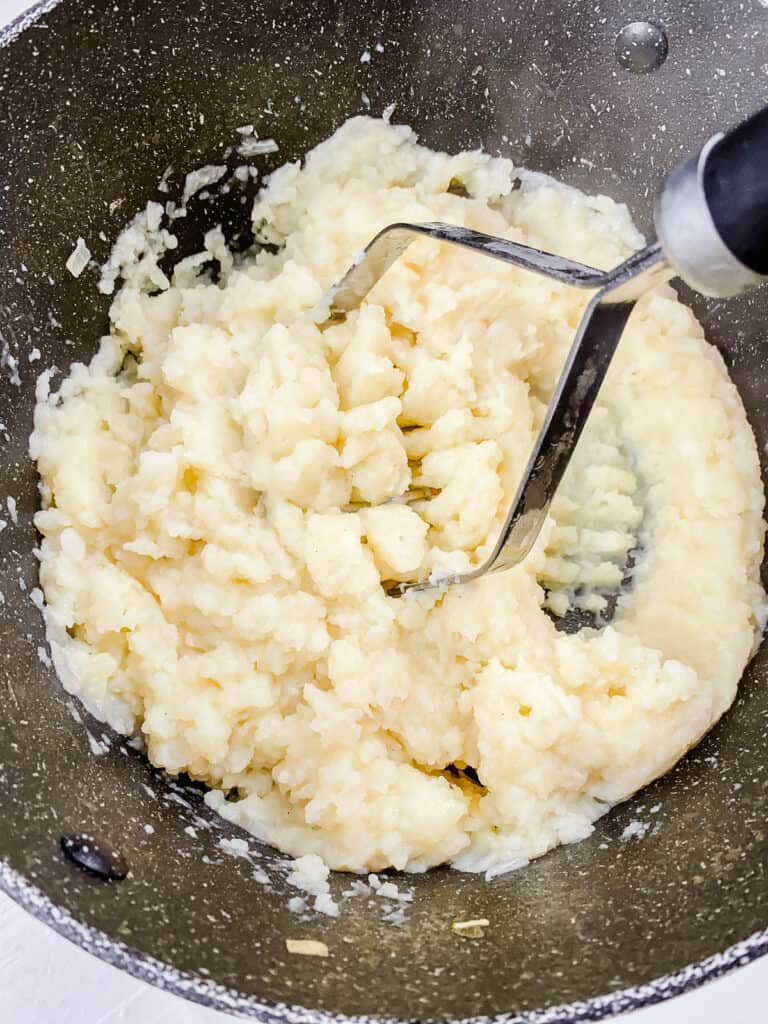 Add Remaining Ingredients: Stir in the milk, remaining butter, salt, and pepper.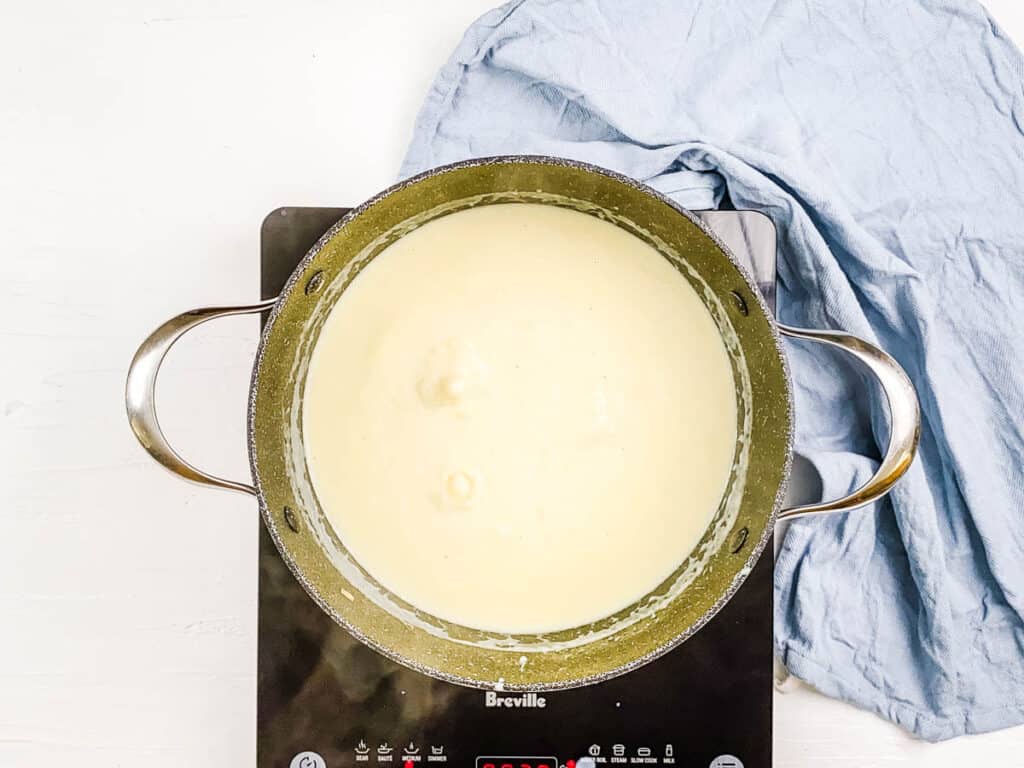 Simmer & Serve: Return to the heat and simmer for 5 more minutes. Carefully transfer the pureed soup to bowls and top with shredded cheese and green onion if desired.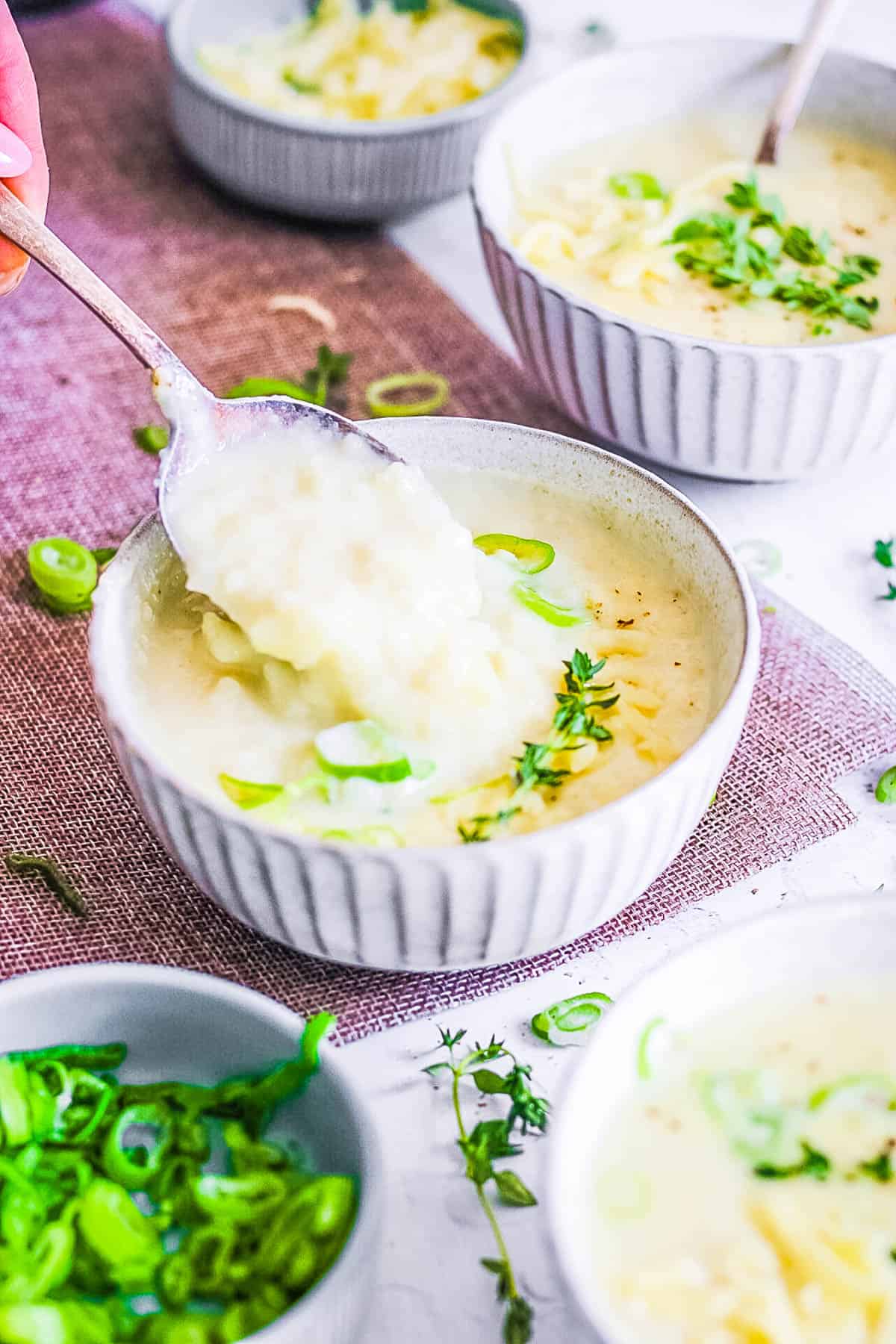 ❓ Recipe FAQs
What is the thickener in potato soup?
Most potato soup recipes are thickened with a roux, a combination of flour and butter. This helps thicken the liquid in the soup, usually broth or milk. Starchy potatoes naturally thicken the soup as well. They break down as they cook and create a creamy soup base.
Should I peel my potatoes for potato soup?
It depends on your preference and what type of potato you use. If you don't mind bits and pieces of potato skin throughout your soup, it's fine not too. I recommend peeling russet potatoes since they have a dark, thick skin.
What potatoes are good for soup?
For creamy soups all-purpose or starchy potatoes are good options because they're tender and fall apart. Waxy potatoes hold their shape which makes them good for soups where you want large chunks of potatoes, like stew or vegetable soup.
How do I store healthy potato soup?
Store any leftover soup in an airtight container in the refrigerator for up to 5 days. Reheat the soup in the microwave or in a saucepan on the stovetop over medium heat. You may need to add more milk to reach the right consistency.
How do I fix bland potato soup?
If potato soup tastes bland, it's probably not seasoned well. Add salt and pepper to taste, until the soup tastes flavorful but not overly salty. If that doesn't work, add plenty of toppings! Crispy bacon, shredded cheese, and green onions are an easy way to bump up the flavor.
💭 Expert Tips
Use a potato masher for a chunkier soup.
Don't overmix the potatoes when blending or the soup will get gummy.
If using an immersion blender, add the milk first and then blend until smooth.
Any milk alternative or plant-based milk can be used in this simple recipe. Plant-based milks will make the soup a bit thinner. Remember to use unsweetened plant-milk so the soup doesn't taste sweet!
Feel free to add more seasonings if you have them on hand. Garlic powder, garlic salt, & onion powder are great additions.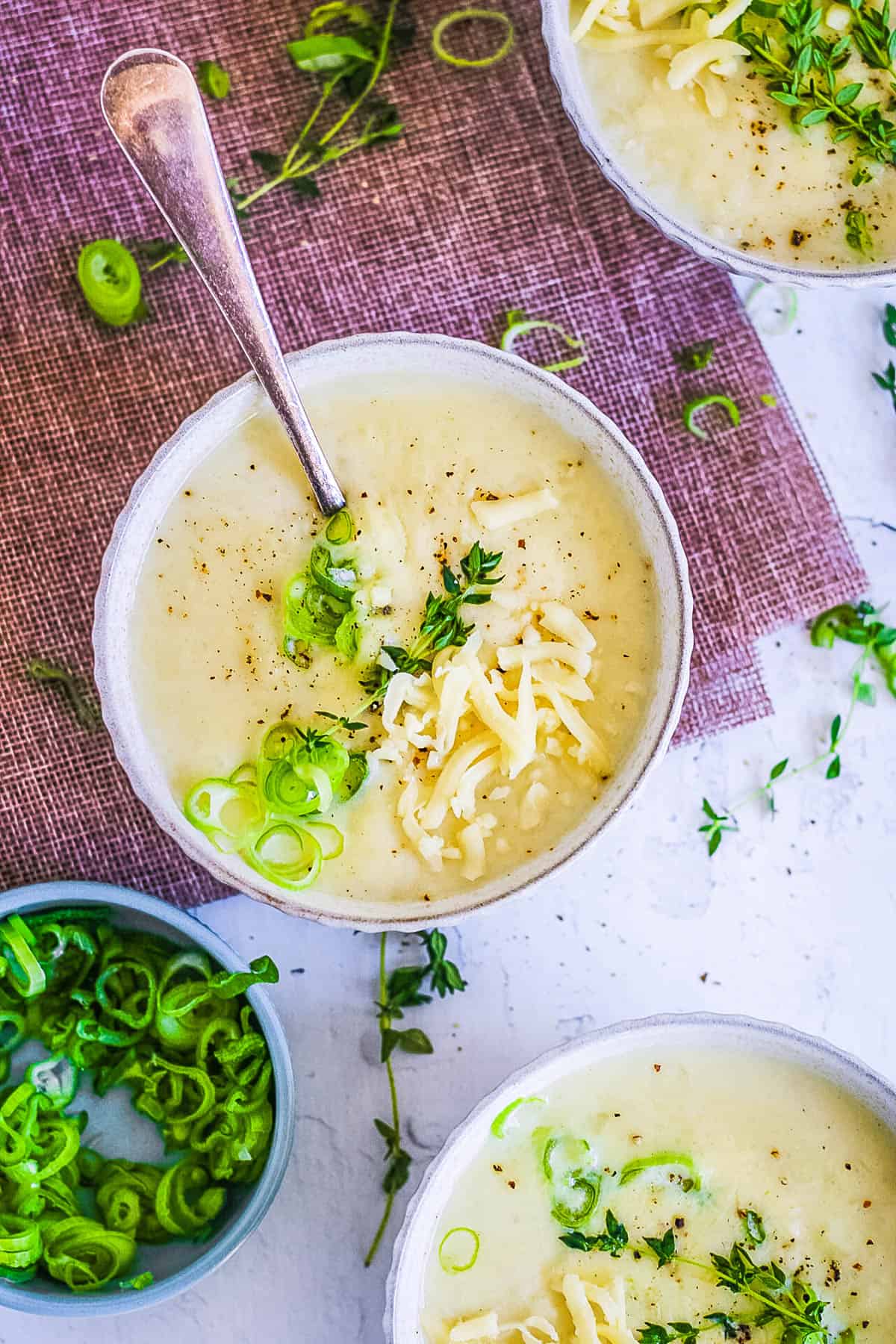 🥔 More Easy Potato Recipes!
LOVE THIS RECIPE? Please leave a 5-star rating 🌟 in the recipe card below and/or a review in the comments section further down the page!
You can also FOLLOW ME on FACEBOOK, TWITTER, INSTAGRAMand PINTEREST to see more delicious, healthy, family-friendly food, and if you have any questions, I'm here to help!
📋Recipe Card
4 Ingredient Potato Soup
This 4 ingredient potato soup is a thick and creamy one-pot dish with just milk, onion, butter, and potatoes! Potatoes are the star of this simple, no-fuss soup! Top with shredded cheese and green onions, or serve as-is!
Services: 8 servings
calories: 187calories
Don't over mix the potatoes when blending as this will make the soup gummy.
When blending with an immersion blender add the milk first and then blend smooth.
Use a potato masher for a chunkier soup.
To make this soup vegan friendly use vegan butter, plant based milk and vegan cheese.
Any milk or milk alternative can be used in this recipe however plant based milks will make the soup a little thinner. Be sure to use unsweetened plant based milks.
Leftover soup can be stored in an airtight container in the fridge for up to 5 days.
To reheat you may need to add additional milk and seasoning as the soup may thicken as it cools.
Serving: 1cup | calories: 187calories | Carbohydrates: 28g | protein: 5g | Fat: 6g | Saturated Fat: 4g | Polyunsaturated Fat: 0.3g | Monounsaturated Fat: 2g | Trans Fat: 0.2g | Cholesterol: 18mg | Sodium: 80mg | Potassium: 702mg | fiber: 3g | Sugar: 4g