This post may contain affiliate links. As an Amazon Associate, I earn from qualifying purchases. Please read my disclosure.

These 20 Vegetarian 4th of July Recipes are perfect for your outdoor parties, BBQ, or picnics as you celebrate America's Independence! These are some of my favorite recipes including starters, sides, burgers, sandwiches, and of course dessert!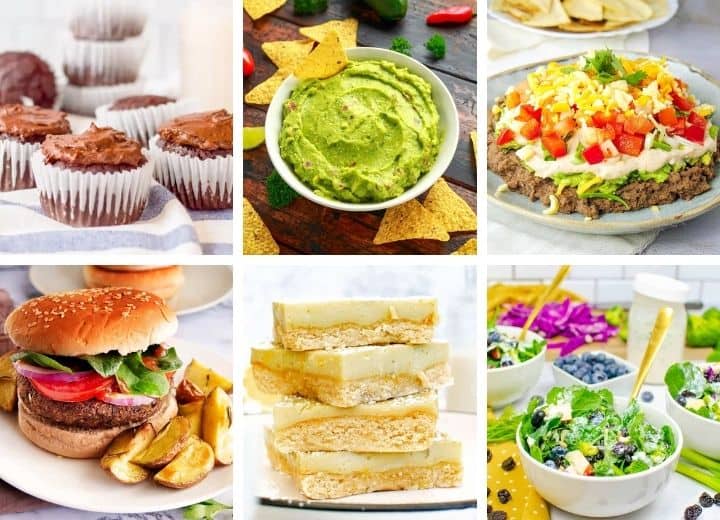 The Fourth of July is one of my favorite holidays. Outdoor parties, fireworks, lots of delicious food, spending time with family and friends, my birthday (on July 5th) – it doesn't get much better than that!
When it comes to planning a fantastic summer cookout, you want to make sure you have dishes that everyone at your gathering can eat and enjoy. Whether you are vegetarian, or have vegetarian guests, these meatless recipes are sure to be delicious and tasty for everyone at your get together, even the meat eaters! I've also added some vegan fourth of July recipes too!
In this round-up, you'll find everything from your favorite potato salad, and sweet corn, to dishes with fresh summer herbs, and perfectly grilled veggie burgers.
There's a little something for everyone so that you'll have the most spectacular July 4th celebration!
These vegetarian 4th of July recipes work for your backyard get-togethers or for your next bbq too. These easy recipes are healthy, light, summery, and absolutely delicious.
Perfect Side Dishes, Starters, and Fresh Summer Salads
The best backyard picnic or BBQ is all about the sides and the starters! These vegetarian 4th of July recipes for salads, and dips will keep your guests happy until the main course is ready!
Grape and Avocado Salad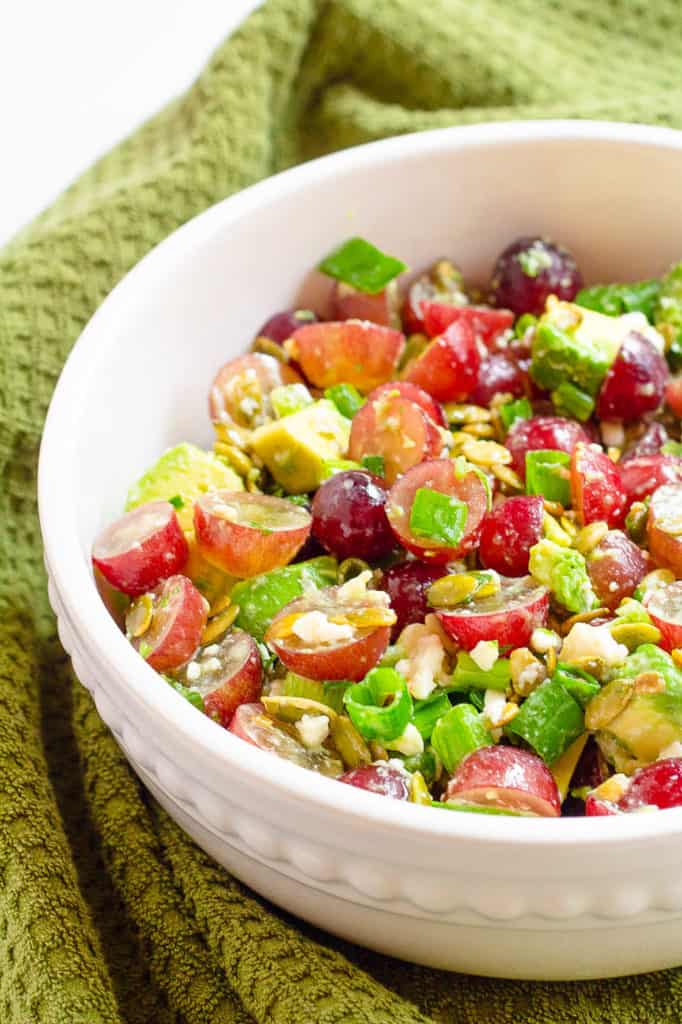 This refreshing recipe for grape salad brings sweet and savory together to create the perfect side dish! With a bit of added kick from the addition of jalapeño peppers and creaminess from the avocado and cojita cheese, the sweetness of the grapes are nicely balanced. For a vegan spin on this recipe, just omit the cheese!
Fruit Salad with a Kick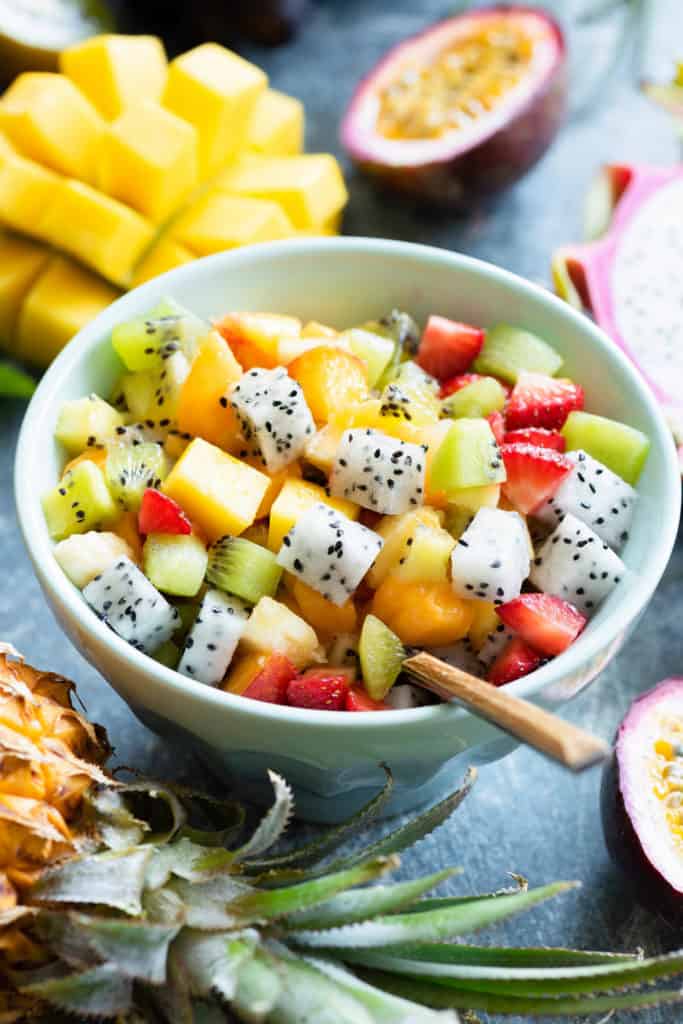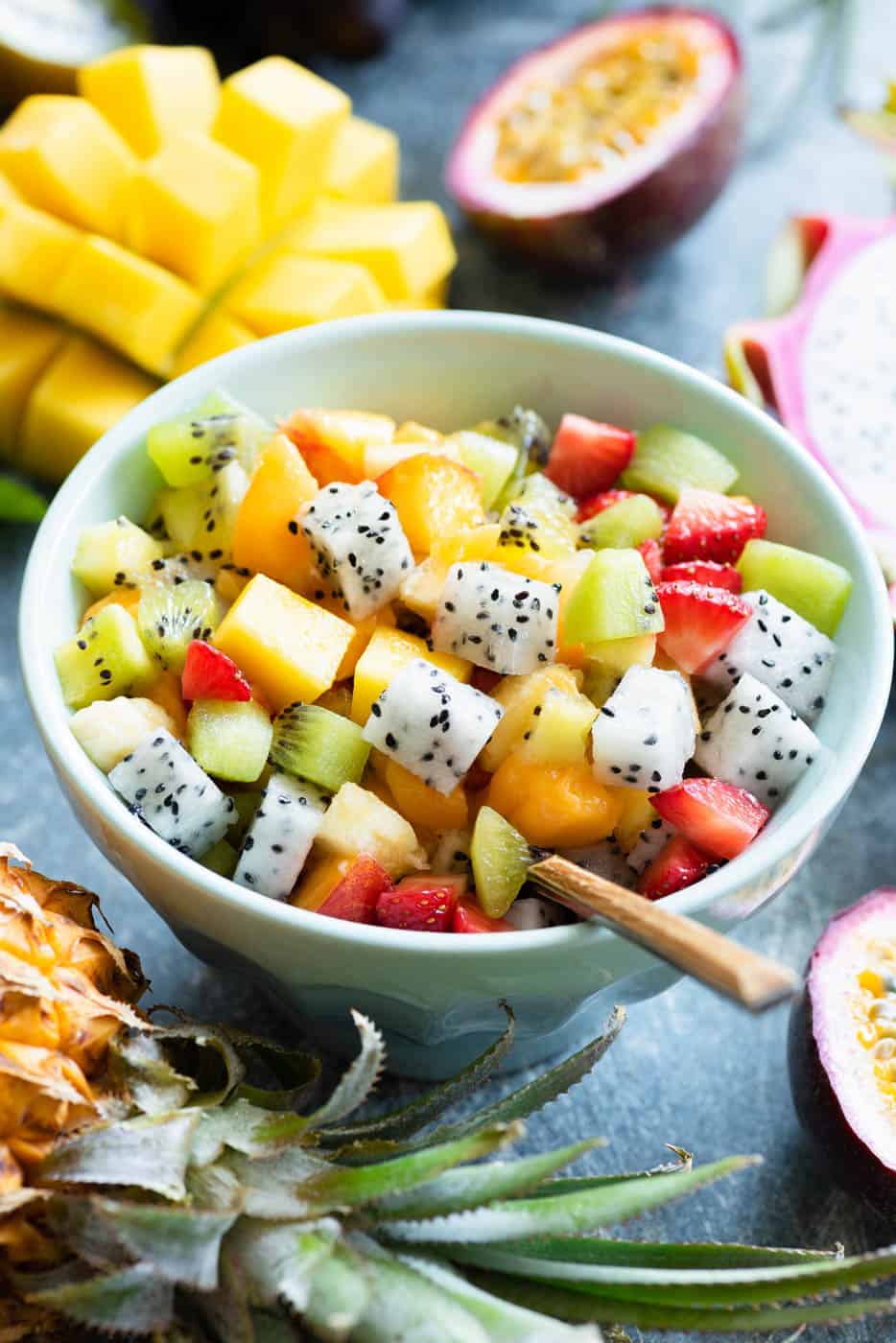 A simple salad with cubed melon, mango, dragon fruit, kiwi, jicama, lime juice, and a hint of spice from chili powder. Feel free to add some juicy watermelon to the mix as well. This recipe is an unexpected and delicious take on the traditional fruit salad. Most fruit salad will use orange juice or some other sweetener, but this recipe relies on the natural sweetness of the fruit to make this salad healthier and extra tasty. Great for a summer picnic, an outdoor bbq!
Superfood Salad with Healthy Ranch Dressing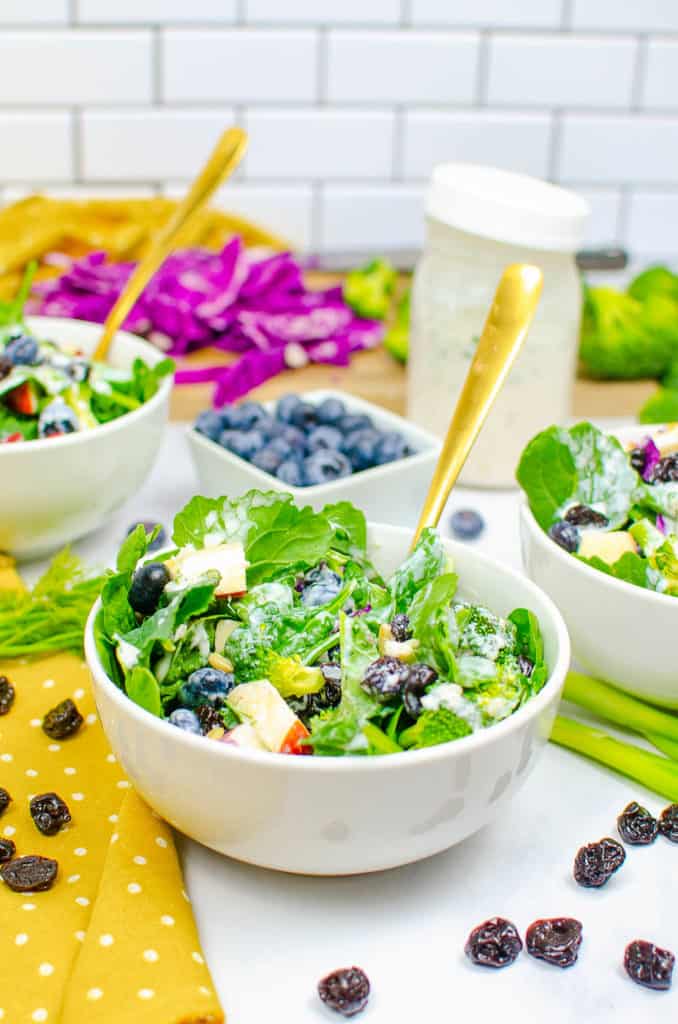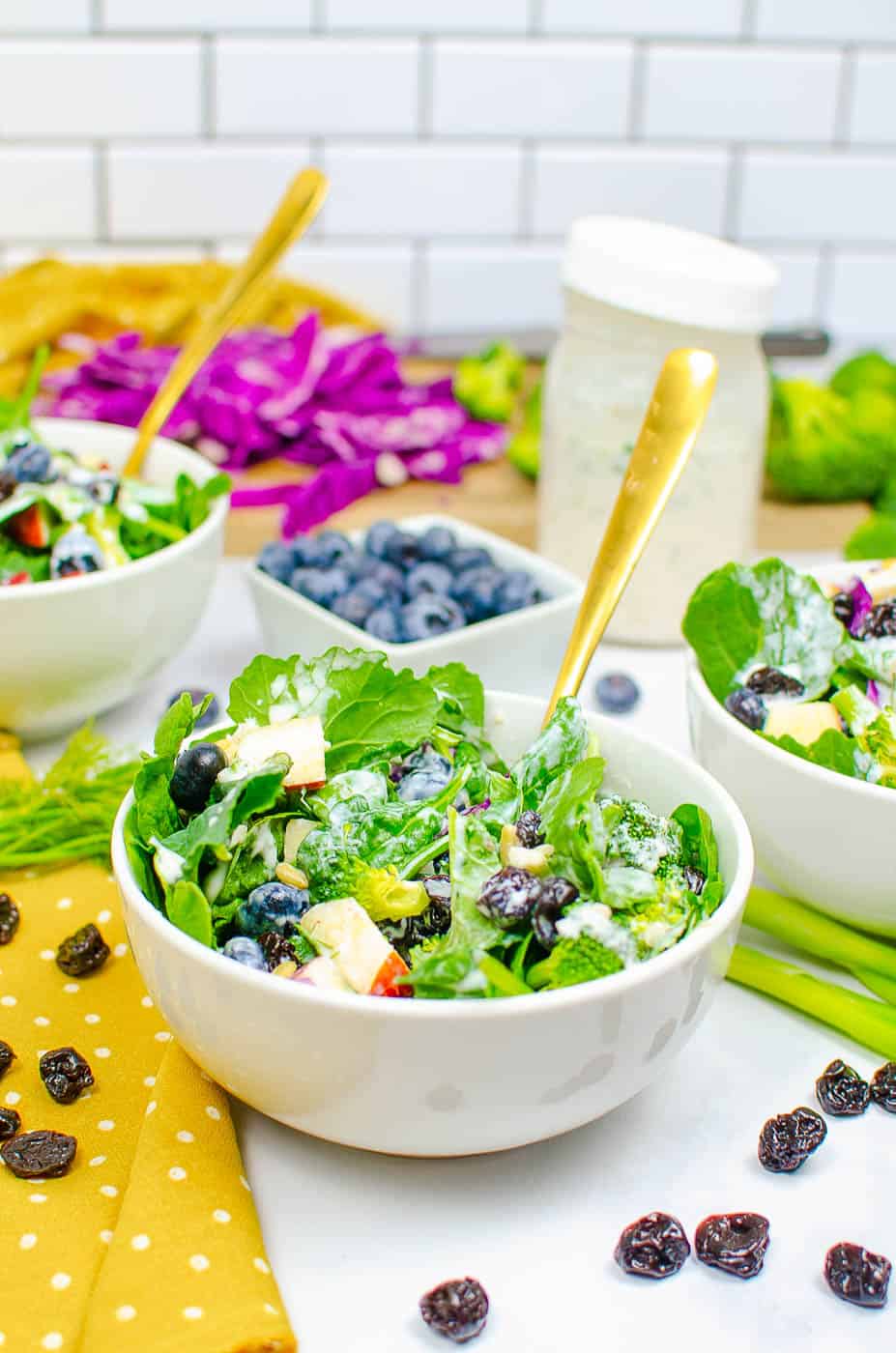 This Superfood Salad is going to be your new favorite dish! It's filled with broccoli, blueberries, sweet Fuji apples, cabbage, spinach, dried cherries, pine nuts, and a healthy, homemade ranch dressing. Ready in just 15 minutes!
White Bean and Veggie Bruschetta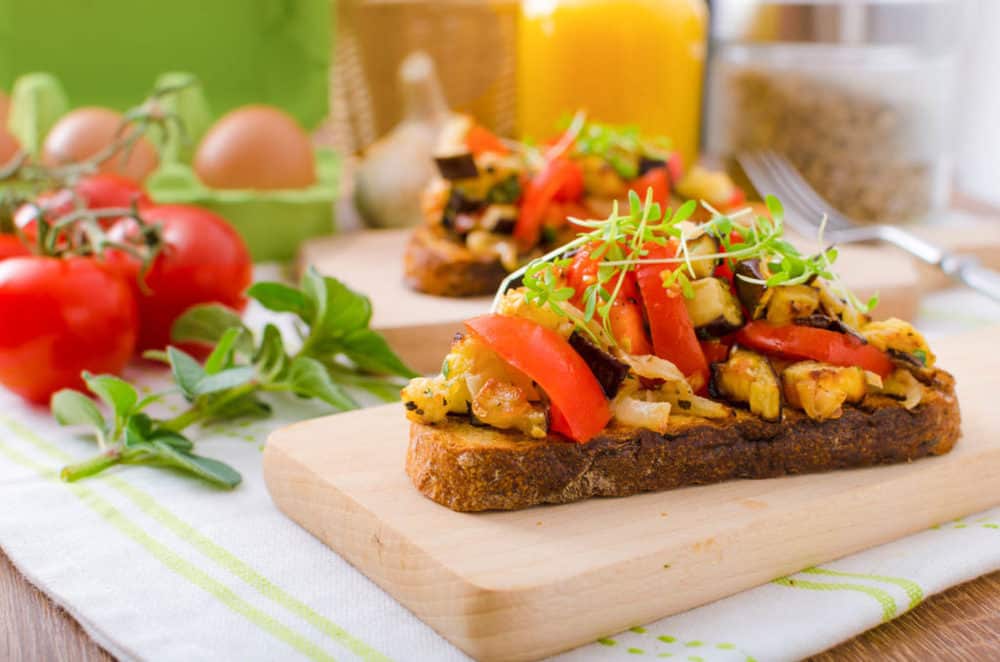 This Caprese Bruschetta has a twist with a mixture of tomatoes, red peppers, zucchini, and white beans that sit on top of a whole wheat baguette, topped with fresh herbs for a finishing touch. It's one of my favorite yummy appetizers to serve to a crowd!
Healthy Potato Salad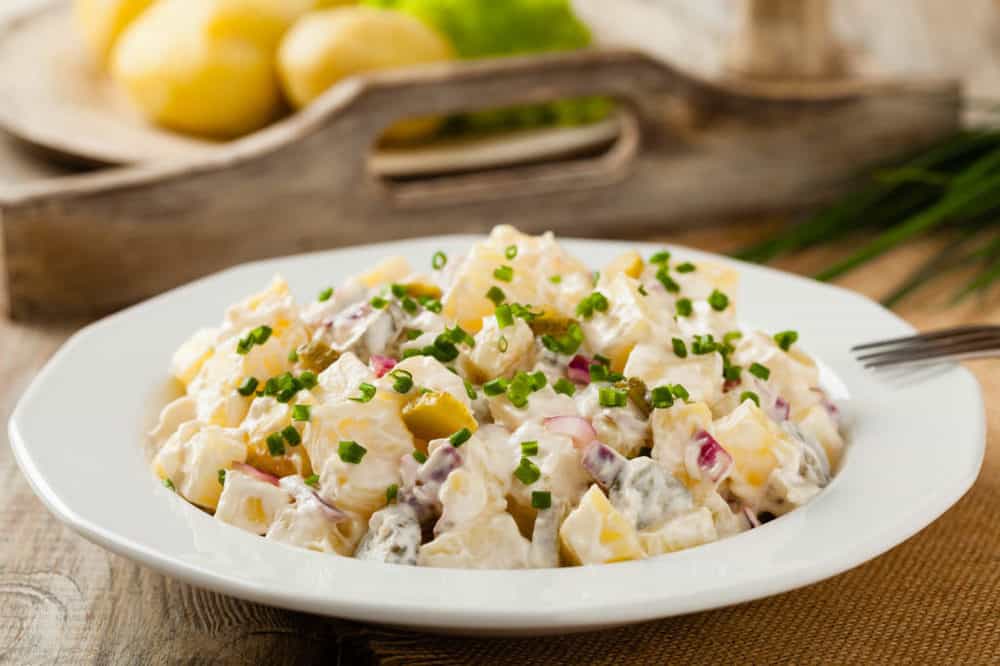 This healthy potato salad is a classic side dish for a summer party or barbecue. Check out how to make this traditional, creamy potato dish a little healthier with a few tricks. You won't know the difference! This hearty salad also pairs nicely with this classic pasta salad that's high in fiber and protein!
Healthy Guacamole with Chipotle Peppers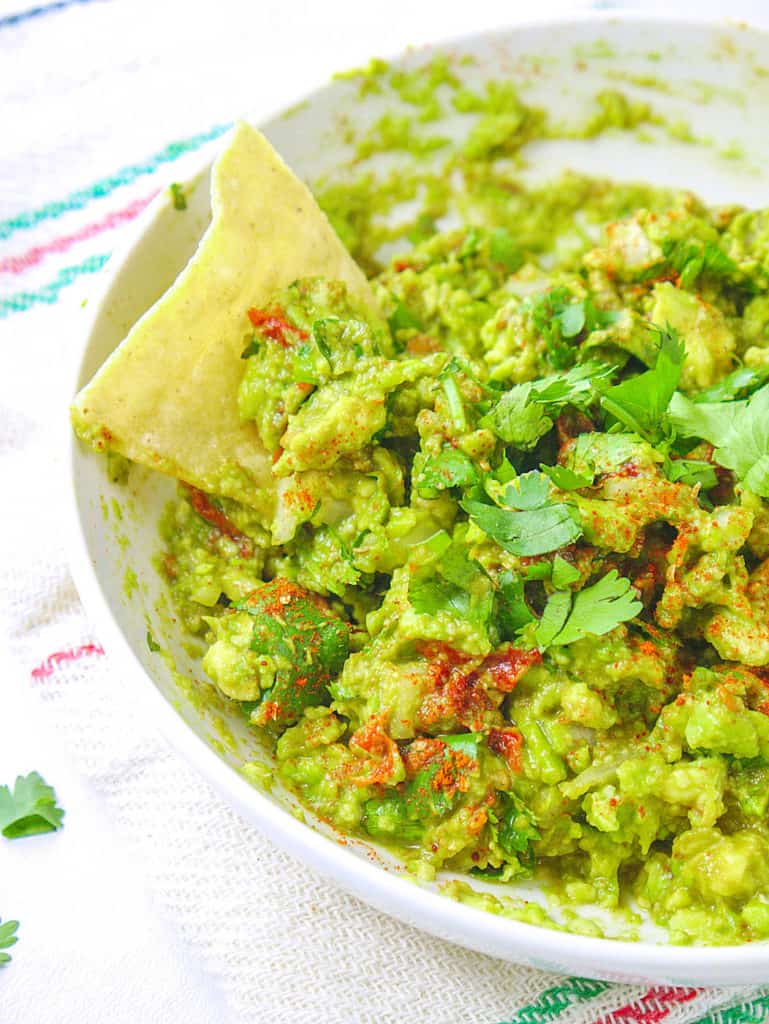 This healthy guacamole recipe is easy and simple to make. It's a great variation on the authentic Mexican recipe. It's perfect to serve as a topping on tacos and enchiladas, or great as a dip with some chips.
Edamame Guacamole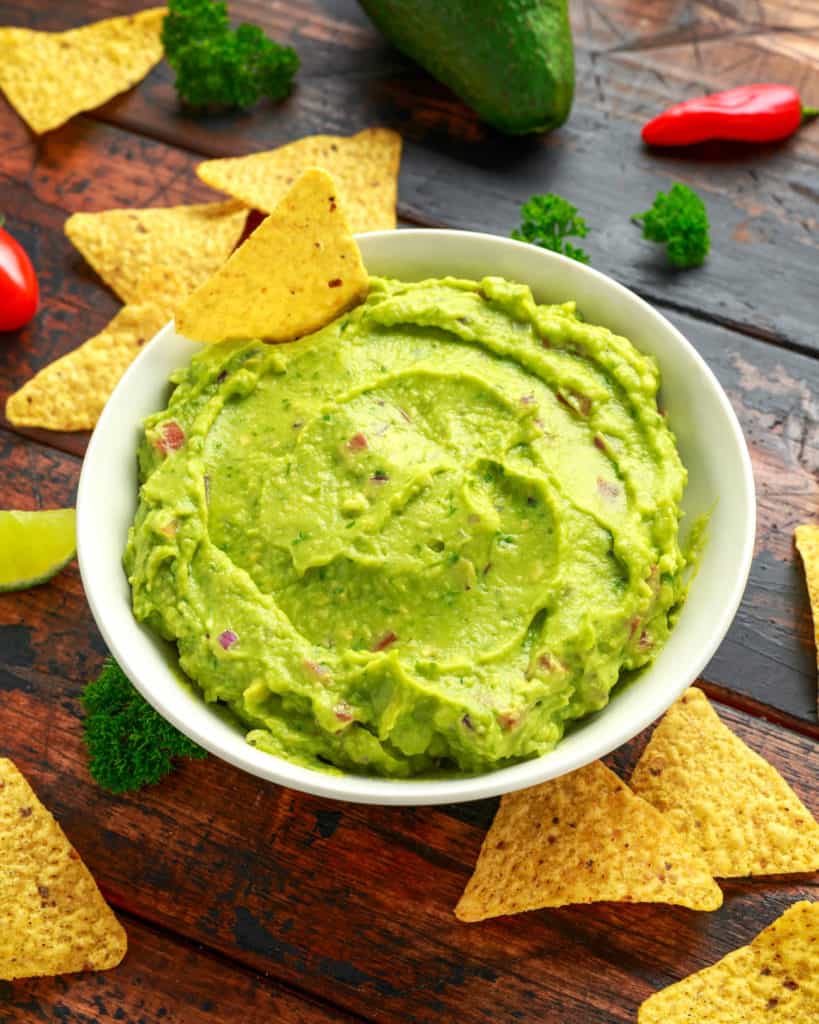 This vegan guacamole recipe with edamame is the perfect healthy dip! Low in calories and fat, and easy and quick to make, this tasty edamame guacamole will be the star of your next party!
Healthy 7 Layer Taco Dip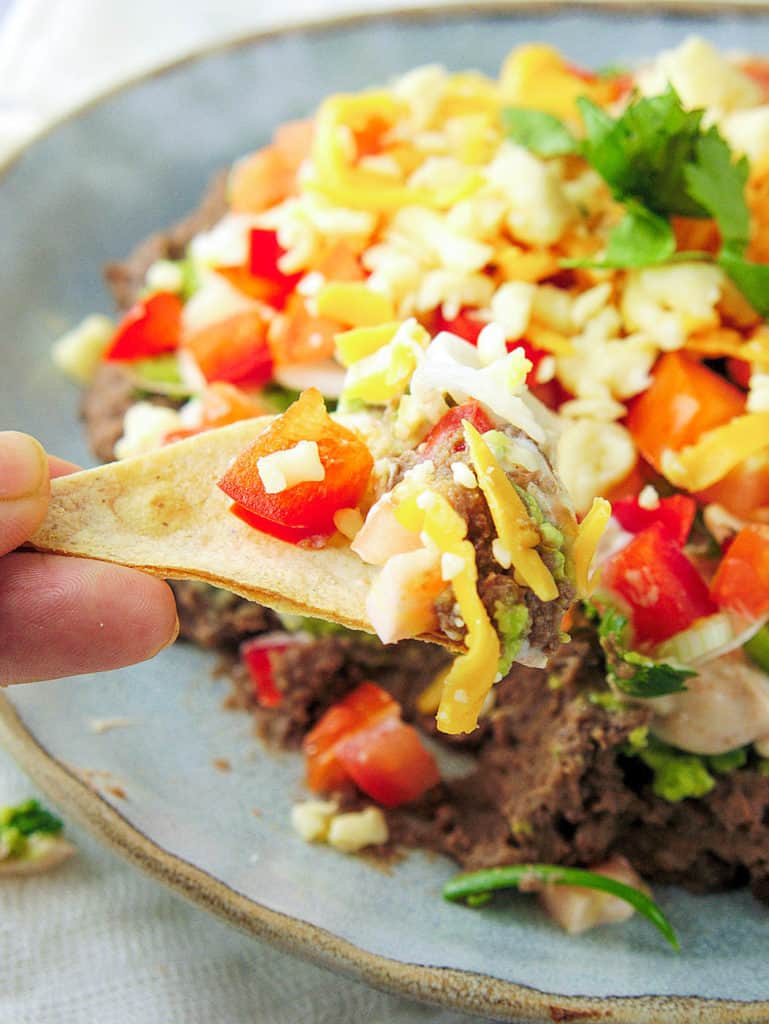 This healthy, 7 layer taco dip is a party table's best friend! Lightened up from the traditional bean dip recipes and naturally gluten-free, this is a delicious way to enjoy one of your favorite tips with all of the same great flavor but none of the guilt! You'll love how this bean dip tastes with chips, veggies or even on its own. Ready in just 20 minutes and kid-friendly too!
Easy Vegetarian Burgers, Sandwiches and Main Dishes
It wouldn't be an outdoor party without firing up the grill! These veggie burgers and sandwiches are full of texture and flavor! Easy and quick to make, they are hearty, full of summer flavors and are some of my favorite vegetarian 4th of July recipes!
Southwestern Pinto Bean Burgers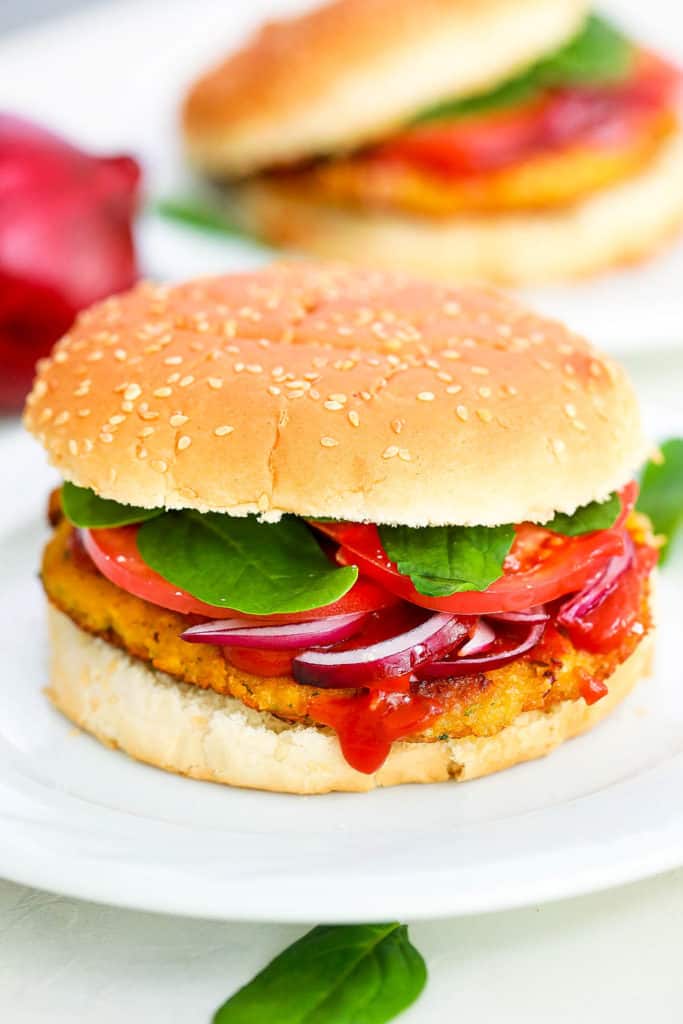 Ever tried making a veggie burger with pinto beans? Now's your chance – and you don't want to miss it! These pinto bean burgers are packed with fresh corn, beans, spices and are topped with fresh veggies and bbq sauce. They are fresh, flavor-packed, and filling. So much better than frozen veggie burgers and easily adapted to vegan.
Falafel Burgers with Creamy Feta Sauce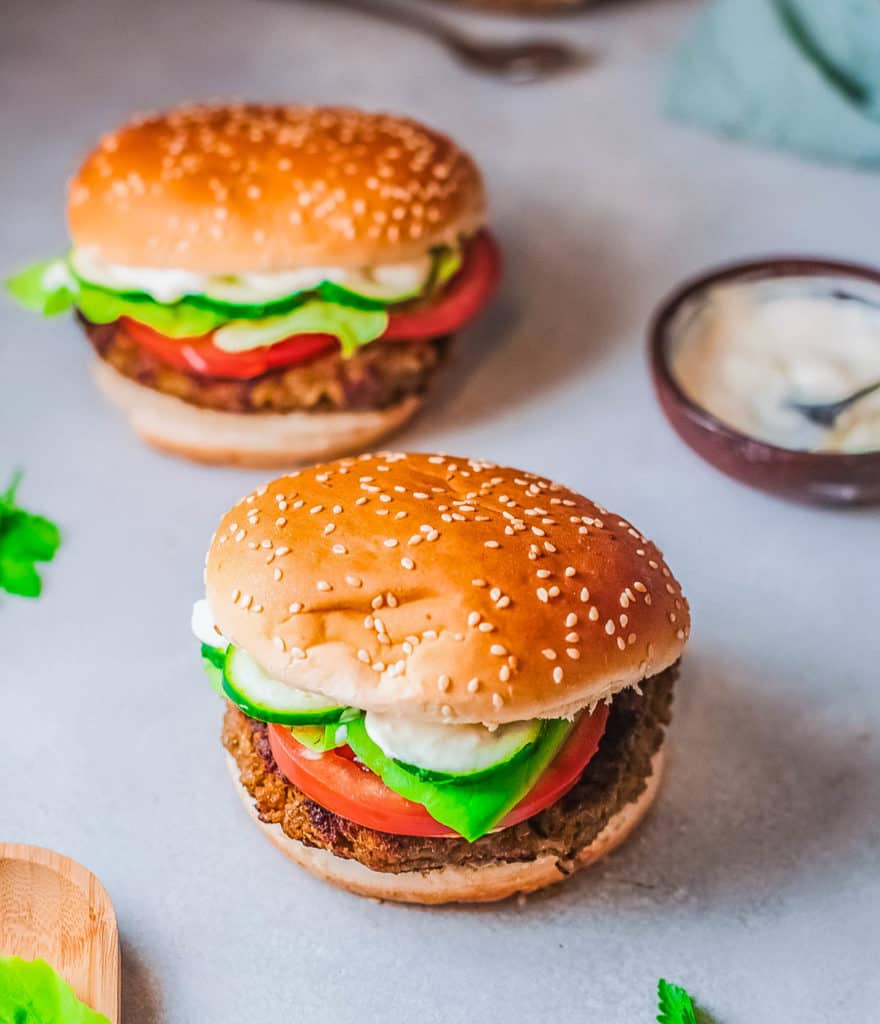 These hearty Falafel Burgers are bursting with Mediterranean flavors! Every taste is filled with beluga lentils, chickpeas, seasonings, and a subtle sweetness that is pure heaven. They're topped with a creamy feta cheese sauce to really put them over the top! To make these vegan, replace the sauce with vegan mayo!
Black Bean Quinoa Burgers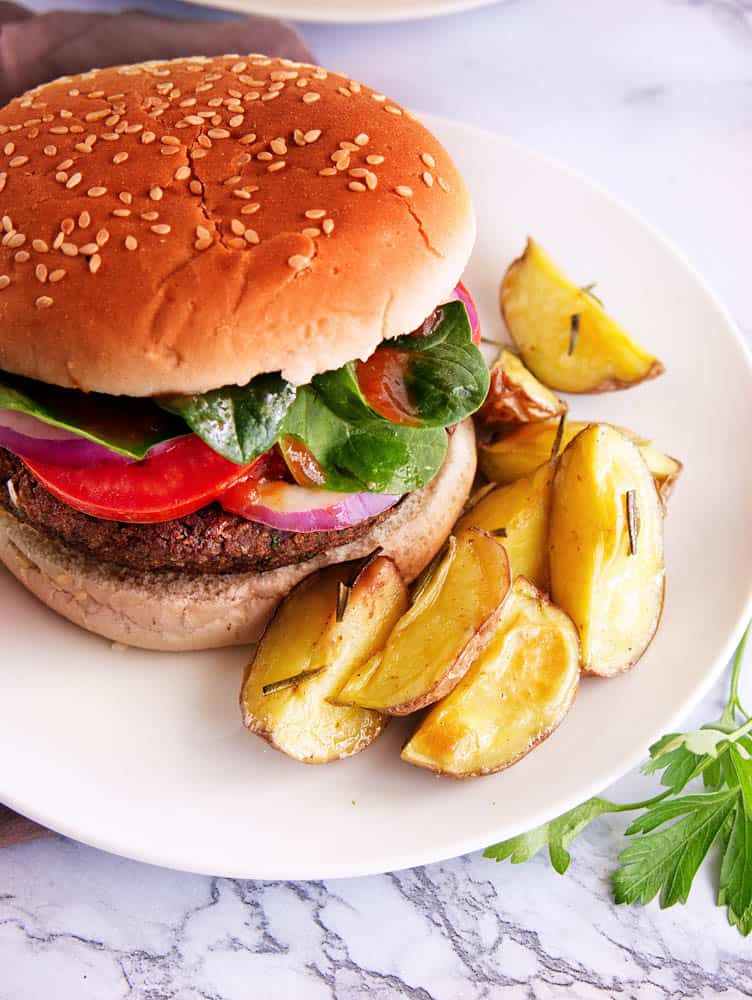 These vegetarian black bean quinoa burgers are easy and quick to make. Black beans add a nice meaty texture that will make this burger satisfying for vegetarians and meat eaters alike! Tasty, hearty, and can easily be made vegan too!
Vegan Black Bean Burger with Tahini Sauce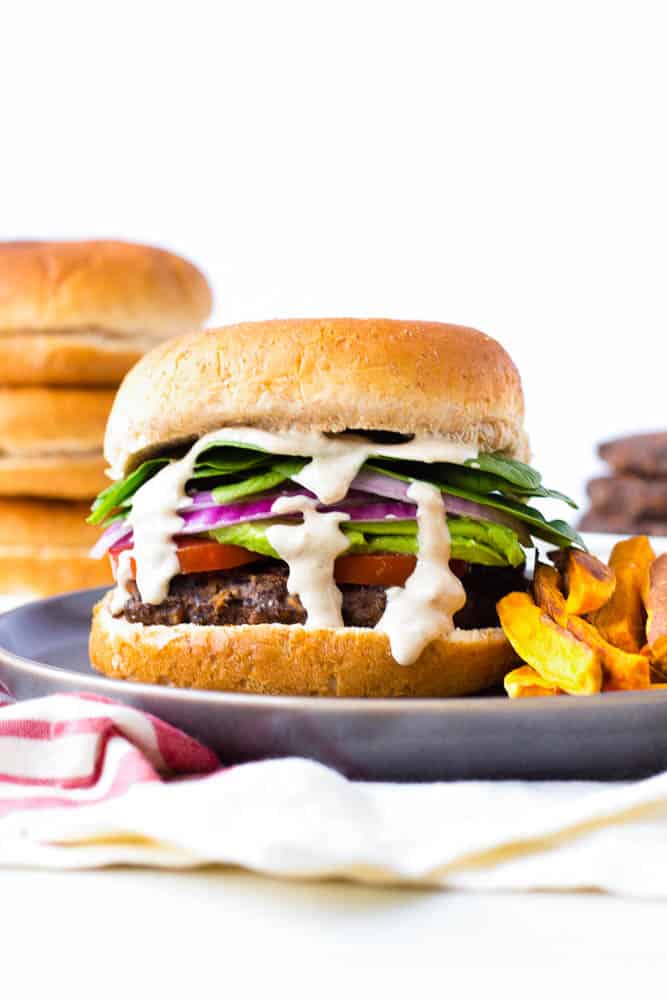 These healthy vegan burgers are protein packed and perfect for summer cookouts and barbecues! Easy substitutes make the patties both vegan-friendly and gluten-free, and the creamy, delicious tahini sauce makes this one of the best vegan 4th of July recipes ever!
Kale and Caramelized Onion Paninis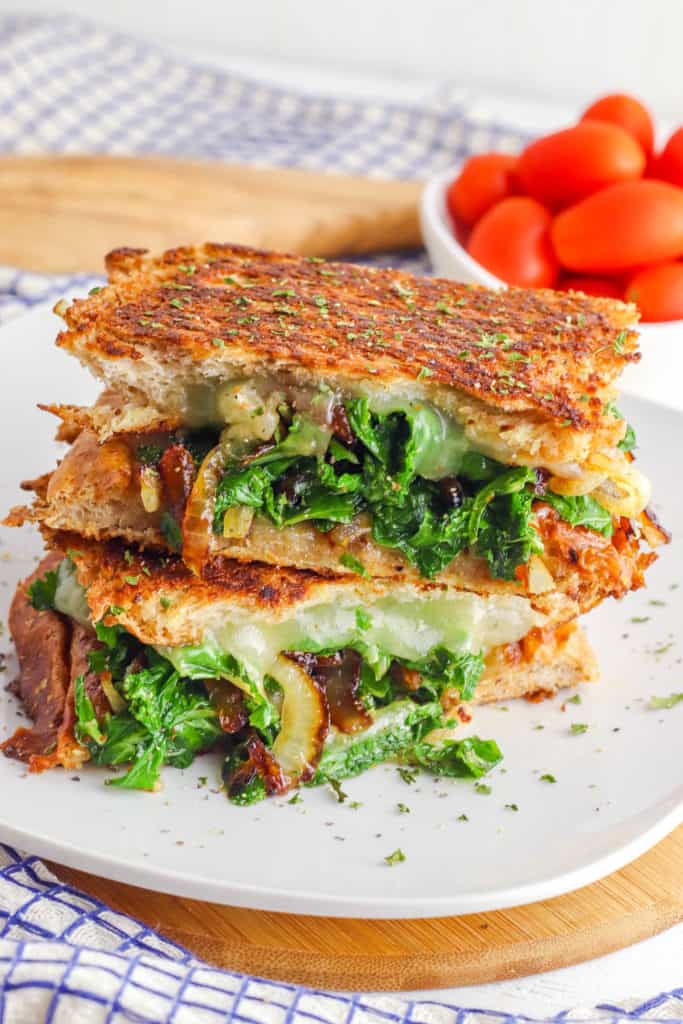 This savory veggie panini with caramelized onions makes the vegetarian lifestyle easy – and downright delicious. The fontina cheese oozes out of the sandwich, the bread is warm and crispy, and the sautéed kale adds a complementary lightness.
Veggie Shawarma Recipe with Marinated Tofu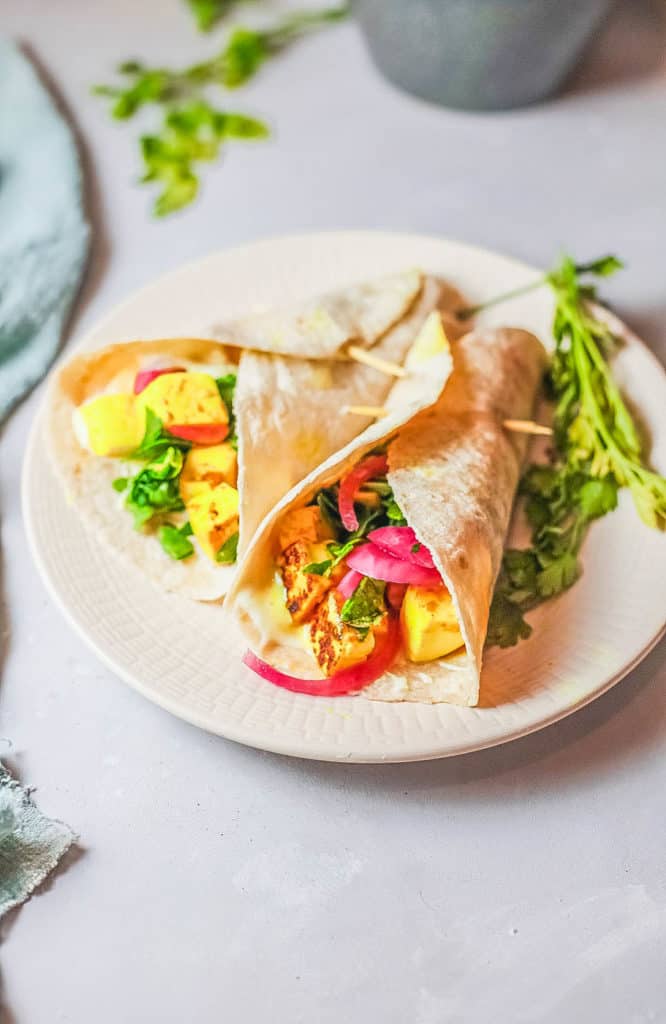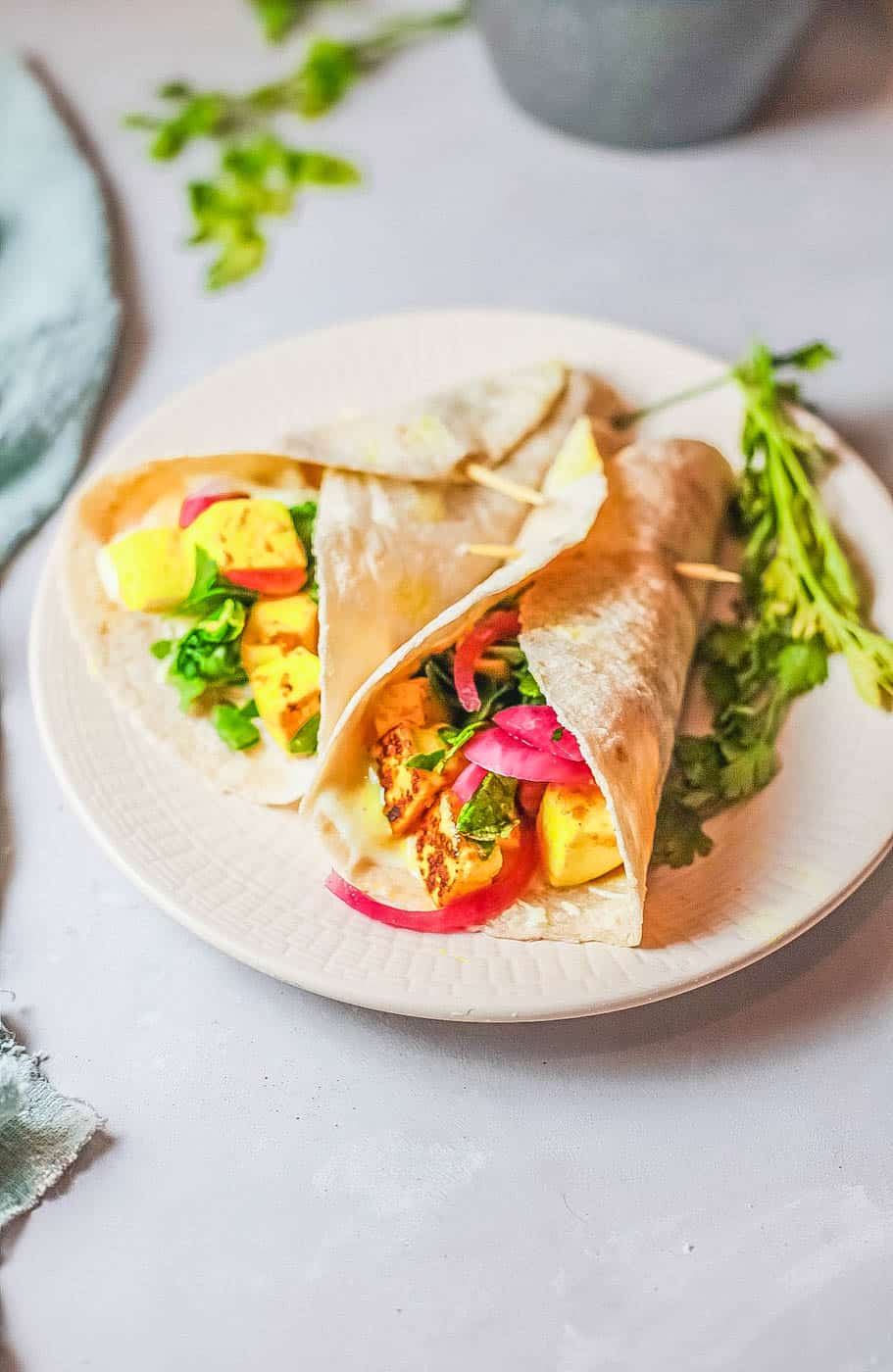 This veggie shawarma is stuffed with crispy savory tofu, chopped greens, quick pickled onions and a super creamy yogurt dressing. Everything is tightly tucked into a soft and pliable whole wheat naan bread warmed to perfection.
Decadent and Healthy Desserts
Cheesecake Bites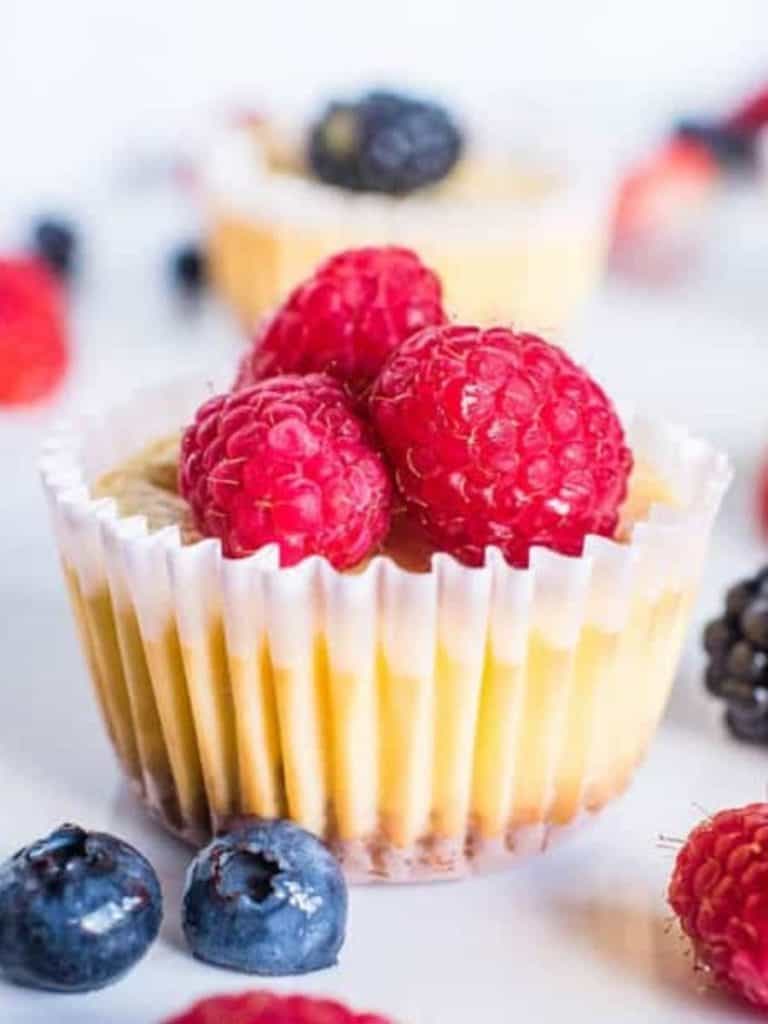 You'll want to savor every taste of these rich Cheesecake Bites! They are velvety smooth, creamy, and the best decadent dessert for all occasions.
Healthy Chocolate Cupcakes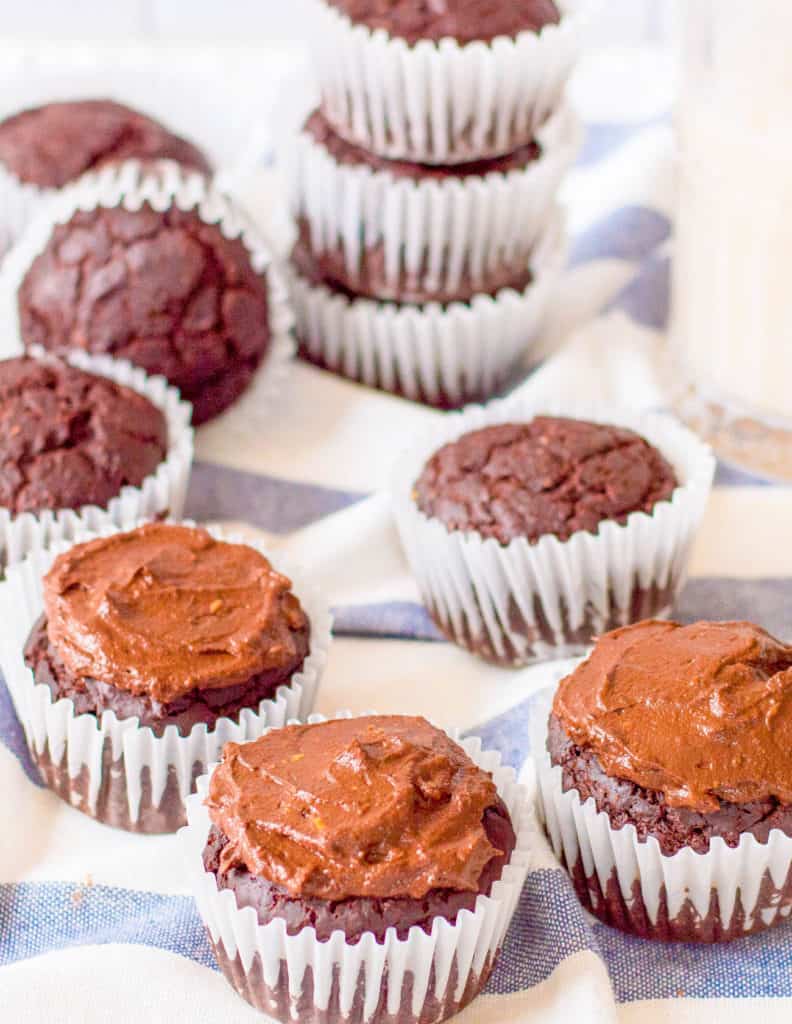 These are the best healthy chocolate cupcakes ever!! They are lightened up with Greek yogurt, white whole wheat flour, and contain no refined sugar. Super easy to make, moist, rich and chocolatey – the perfect guilt-free treat for the whole family!
Gluten-Free Brownies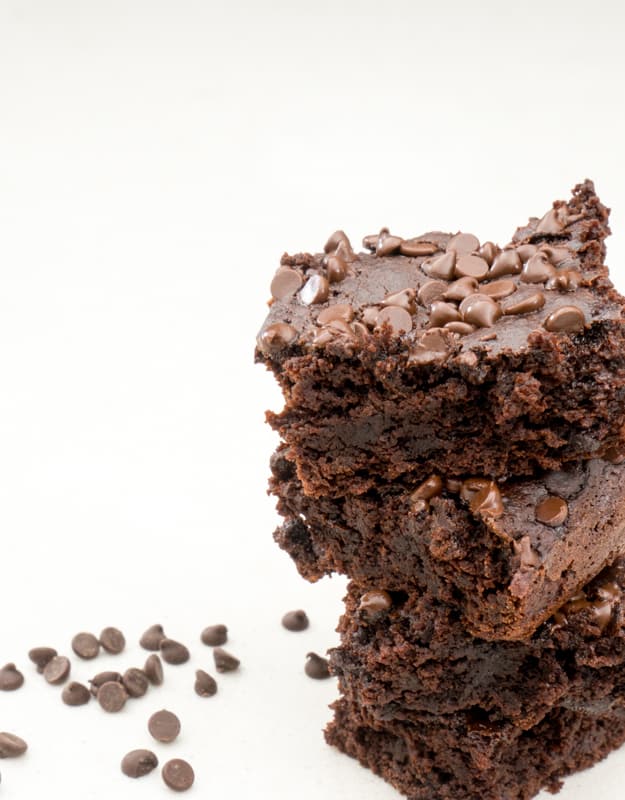 Decadent, rich, fudgy, and delicious – there's nothing more satisfying than these amazing Gluten Free Brownies! They are super easy to make, are easily made vegan or dairy-free, and have a secret ingredient that makes them healthy too. This is an unforgettable brownie that you will want to make time and time again! Serve them up with some ice cream for the ultimate dessert!
Vegan Carrot Cake Cupcakes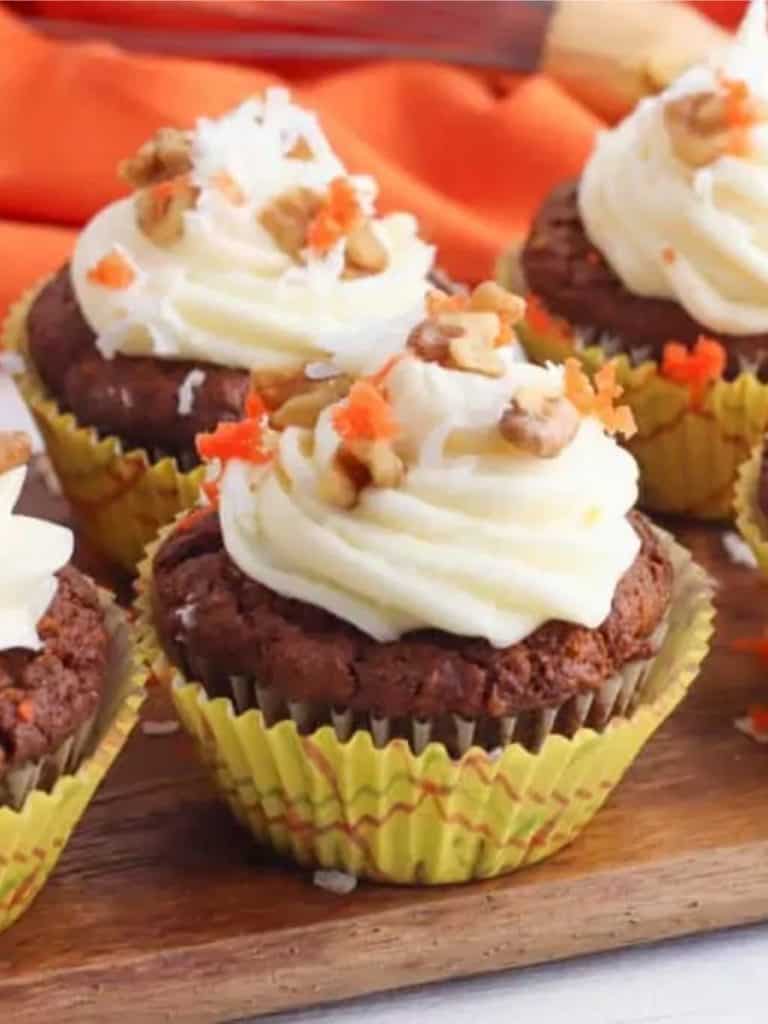 Impress your guests with these vegan carrot cake cupcakes that are flavor-packed and bakery-beautiful! They're egg free, milk free, and made all the most delicious with an easy vegan cream cheese frosting.
Mini Apple Hand Pies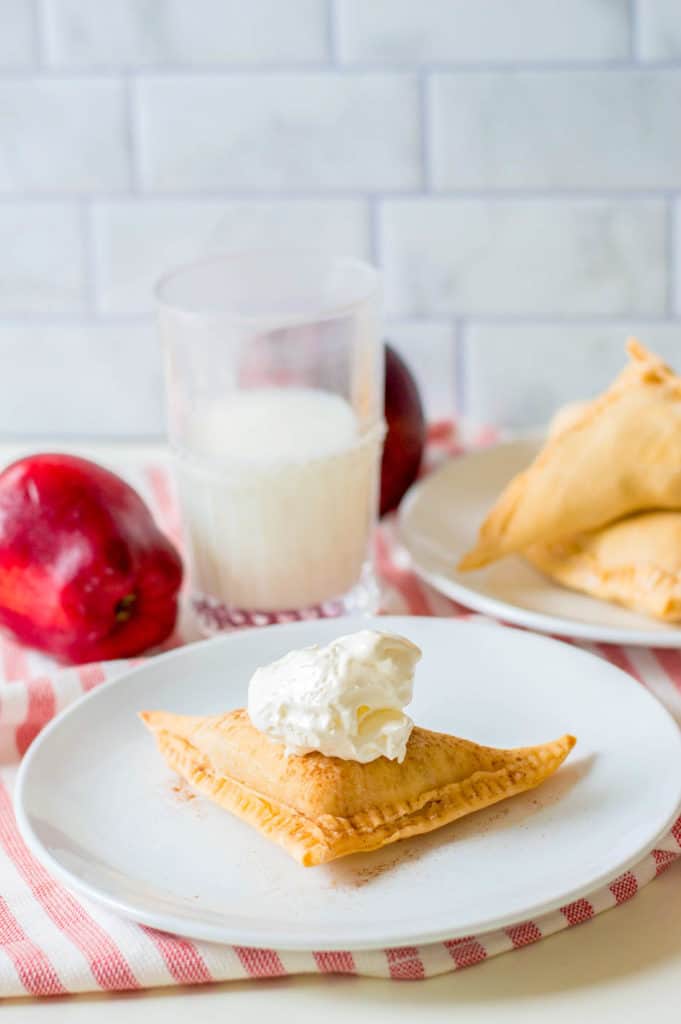 These Mini Apple Hand Pies are made with simple ingredients and are the perfect Americana dessert. Flaky crust filled with a sweet and gooey apple filling that's juicy and packed with flavor.
Gluten-Free Lemon Bars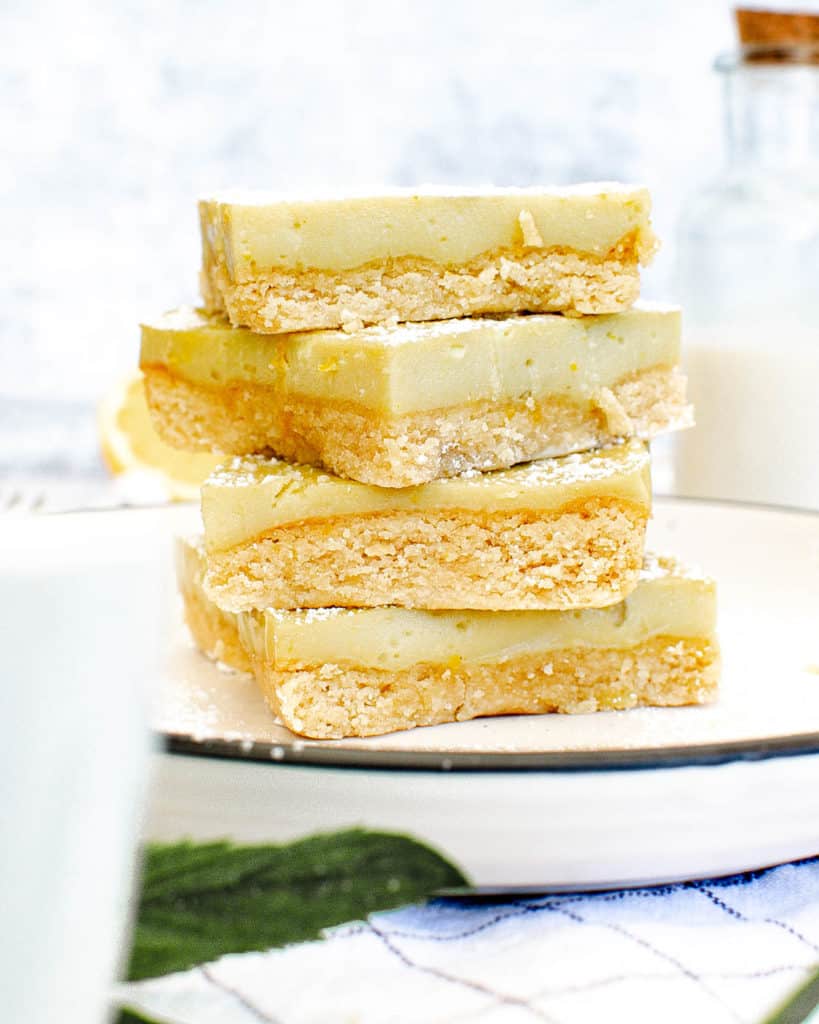 With a sweet, tart coconut milk lemon curd filling, and almond flour crust, these Gluten Free Lemon Bars are the perfect dessert for picnics, bake sales, and more! Naturally sweetened, these bars are vegan friendly.
I hope you have found some inspiration to make your 4th of July celebration something to remember! Happy 4th everyone!
More Vegetarian & Holiday Round-Ups!